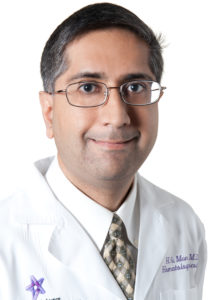 An emerging class of cancer drugs called PI3K inhibitors has shown promise in treating pancreatic cancer; however, the drugs may cause severe liver damage when combined with a high-fat diet, according to an animal study published in Proceedings of the National Academy of Sciences (PNAS).
The study further found that, in the context of obesity, the drugs may fail to protect against cancer progression.
"Since obesity is a risk factor for pancreatic cancer, and given the potential risk of increased toxicity, we need to be careful with drugs targeting PI3K gamma in pancreatic cancer patients," said co-author Hidayatullah Munshi, MD, '02 GME, professor of Medicine in the Division of Hematology and Oncology, and a member of the Robert H. Lurie Comprehensive Cancer Center.
Patients with pancreatic cancer have a particularly poor survival rate; the disease is difficult to detect early, is often not diagnosed until the cancer has spread and is also resistant to many standard treatments.
Recent research has shown PI3K signaling to be involved in the development and progression of pancreatic cancer. As such, there has been growing interest in developing cancer therapies that specifically target the p110-gamma isoform of P13K, Munshi explained.
In the current study, the scientists first confirmed in a mouse model that activation of PI3K promotes the growth of pancreatic cancer. Furthermore, animals genetically engineered to lack PI3K gamma showed reduced pancreatic tumor development.
However, the team also found that when the mice were fed a high-fat diet, inhibiting PI3K gamma no longer provided a protective effect against tumor growth.
Furthermore, animals with pancreatic cancer who lacked PI3K gamma showed impaired lipid metabolism and were highly sensitive to diet-induced fatty liver disease. The findings suggest that PI3K gamma inhibitors may pose a risk for liver damage in pancreatic cancer patients consuming a high-fat diet, Munshi said.
In the paper, the authors recommend caution when targeting PI3K gamma for cancer therapy, particularly in patients with obesity.
"The next steps will be to understand the mechanisms by which targeting PI3K gamma and consumption of high-fat diets results in severe liver injury," Munshi said. "This may allow us to mitigate some of the severe adverse effects of PI3K gamma inhibitors and/or help identify alternative targets for treating pancreatic cancer."
The study, led by investigators at the University of Illinois at Chicago, was supported by National Cancer Institute Grant CA161283, University of Illinois at Chicago Departmental Funds, National Cancer Institute Grants CA 176846 and CA 216410, and Veterans Administration Merit Award BX002703.