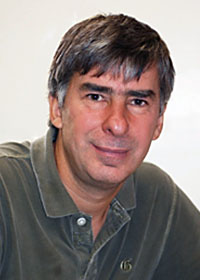 Scientists discovered a new link between cell polarity and cell adhesion, according to a study published in the Journal of Cell Biology.
The experiments, led by Sergey Troyanovsky, PhD, professor of Dermatology and of Cell and Developmental Biology, found that a group of proteins expressed in epithelial cells serve as molecular flags, signaling to other proteins that they should form junctions at those particular sites.
This group of proteins, called LAP proteins, are expressed on the lateral surface of epithelial cells, shedding light on the mostly unknown relationship between cell polarity and cell adhesion that helps cells orient in a matrix to create tissue, Troyanovsky said.
"There is an apical region, like a roof, and a lateral region, like walls," Troyanovsky said. "This protein localized on the walls, so other proteins and cells know where to go."
Most cells in the body have an orientation: they point in a particular direction, known as cell polarity.  For epithelial cells, which line cavities and surfaces throughout the body, this is particularly important. This tissue often has several layers that perform different functions, with different features on the top and bottom of individual cells.
How epithelial cells generate and maintain polarity is largely unknown, Troyanovsky said, but several proteins have been previously identified to play some role in the process: "Scribble," "Erbin," and "Lano."
These proteins were identified in fly models, and when they were removed, epithelial cells became disorganized. However, when similar experiments were performed in human cells, they did not work: whether or not Scribble was present, epithelial cells were correctly polarized.
In the current study, Troyanovsky and colleagues instead knocked out all three LAP proteins at once, resulting in disorganization and misplaced intercellular junctions.
"When these proteins are gone, proteins involved in junction formation cannot find the lateral surface," Troyanovsky said.
Looking for commonalities between the three proteins, they discovered a short region called "LU." When re-introduced into models missing the LAP proteins, the epithelial cells were once again correctly polarized, indicating that LU is the "active ingredient" — and its presence within all three proteins could serve as a biological backup.
"It's fine for cells to only to express one of these genes," Troyanovsky said.
Cell polarity is very central to many processes: an organism with dysfunctional cell polarity often does not survive very long, making backups like these an important redundancy. In addition, learning more about how cell polarity is regulated may give better insight into how cancers form, Troyanovsky explained.
"In a normal liver, for example, all of epithelial cells are extremely similar," Troyanovsky said. "In malignant tissues, it's nothing like that: you can easily see that the structure of tissue is broken."
In the future, Troyanovsky plans to isolate the LU region and study its function.
"Now that we've identified this short region, it will be easier to discover what this region does," Troyanovsky said. "Our preliminary data suggests that perhaps some specific phosphorylation is important."
Brian Mitchell, PhD, associate professor of Cell and Developmental Biology, was a co-author of the study. Troyanovsky and Mitchell are both members of the Robert H. Lurie Comprehensive Cancer Center of Northwestern University.
The work was supported by grants from the National Institutes of Health: AR44016, AR057992 and GM0113922.