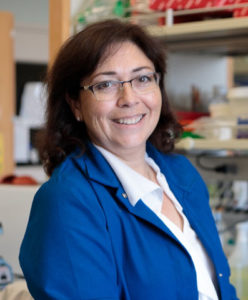 Luisa Iruela-Arispe, PhD, an internationally recognized vascular biologist, has been named the Stephen Walter Ranson Professor and chair of the Department of Cell and Developmental Biology at Northwestern University Feinberg School of Medicine, effective October 1.
Iruela-Arispe is currently the Distinguished Professor of Molecular, Cell and Developmental Biology at the University of California, Los Angeles (UCLA). She also serves as director of the Molecular Biology Institute and chair of the Molecular Biology Interdepartmental Graduate Program. Her husband, Timothy Lane, PhD, will be joining her as associate dean for Graduate Studies, working with Rex Chisholm, PhD, vice dean for Scientific Affairs and Graduate Education.
"We are thrilled to welcome Luisa and Tim to Northwestern Medicine," said Eric G. Neilson, MD, vice president for Medical Affairs and Lewis Landsberg Dean. "Luisa is an innovative scientist who has contributed greatly to the field of vascular biology through her extraordinary discoveries, leadership and mentorship of the next generation. During this exciting time of growth at Northwestern, we are confident that she will guide the Department of Cell and Developmental Biology to the next level."
Iruela-Arispe earned her doctoral degree from the University of São Paulo in Brazil in 1989. She went on to complete postdoctoral training at the University of Washington in Seattle with Helene Sage, PhD, and Paul Bornstein, MD, and later joined the faculty at Harvard Medical School. In 1998, Iruela-Arispe was appointed assistant professor at UCLA, where she rose the ranks over the next two decades.
"I am delighted to join Northwestern University Feinberg School of Medicine and am energized by the impressive upward trajectory of this institution. It is apparent that Feinberg is at a transformative time; I am fully committed to make the Department of Cell and Developmental Biology a strong constituent of the process," Iruela-Arispe said.
Iruela-Arispe's research focuses on understanding the molecular mechanisms that regulate blood vessel formation during development and pathogenesis. Her discoveries, which have been published in top journals including Cell, Developmental Cell, Cell Stem Cell and the Journal of Cell Biology, have provided the basis to develop strategies to control vascular growth during disease, particularly in cancer. In total, she is the author of more than 200 peer-reviewed articles, reviews and book chapters.
Iruela-Arispe is extensively involved in the scientific community on a national and international level. She is currently on the National Heart, Lung and Blood Advisory Council, and was president of the North American Vascular Biology Organization (NAVBO) between 2006 and 2007. She has served on numerous national committees and editorial boards, and is an active member of the American Association for the Advancement of Science, the American Heart Association and the Society for Developmental Biology, among many other professional societies.
Iruela-Arispe has been recognized widely for her landmark scientific discoveries, leadership and academic service. In 2009, she was named the first recipient of the Judah Folkman Award, presented by NAVBO for excellence in research and service to the vascular biology community. At UCLA, she was awarded the Gold Shield Faculty and the Outstanding Mentor Award, among numerous others.
"We would also like to extend our gratitude to Al George and the entire search committee for their outstanding work in identifying new leadership for the faculty of the Department of Cell and Developmental Biology," Dean Neilson said.