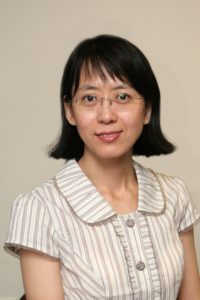 A combination of two drugs, idelalisib and rituximab, is an effective and safe therapy for patients with relapsed chronic lymphocytic leukemia, according to the final results of a phase III clinical trial.
The study, published in the Journal of Clinical Oncology, was a long-term follow-up study to a previously reported trial. Shuo Ma, MD, '00 PhD, '08 GME, associate professor of Medicine in the Division of Hematology/Oncology and a member of the Robert H. Lurie Comprehensive Cancer Center of Northwestern University, was a co-author.
"This study confirmed that idelalisib plus rituximab is an effective treatment option for frail patients with relapsed chronic lymphocytic leukemia, who are not suitable for standard cytotoxic chemotherapy due to other medical conditions," Ma said.
Chronic lymphocytic leukemia (CLL), a type of cancer that begins in lymphoctyes in the bone marrow, is most common in patients age 65 years or older, who often have co-morbidities. As such, many cannot tolerate aggressive chemotherapy, leaving patients with few treatment options.
Idelalisib is a targeted therapy that blocks PI3K delta, a protein that contributes to cancer growth. In 2014, a phase III trial evaluated the efficacy of combining idelalisib with rituximab (a drug commonly used in older patients with CLL)  in patients with relapsed CLL who were unable to undergo chemotherapy. The investigators randomized 220 participants to receive either idelalisib and rituximab, or placebo and rituximab.
The study, published in the New England Journal of Medicine and co-authored by Ma, found that idelalisib and rituximab significantly improved progression-free survival, response rate and overall survival in patients, compared to rituximab alone. Based on the findings, idelalisib in combination with rituximab was approved by the FDA for the treatment of patients with relapsed CLL.
After the conclusion of the first trial, patients in either treatment arm could enroll in an extension study and receive idelalisib alone. The extensive study was designed to evaluate the long-term efficacy and safety of idelalisib maintenance.
The follow-up data confirmed the efficacy of idelalisib-rituximab combination therapy in patients with relapsed CLL, demonstrating an overall response rate of 85.5 percent and a median progression-free survival of 20.3 months.
"It also showed that patients whose disease progressed on rituximab alone can still respond well to idelalisib treatment added later as part of the crossover study design," Ma said.
Furthermore, the follow-up study provided important updates on the long-term safety of idelalisib. "While diarrhea and colitis increased with longer exposure to idelalisib treatment, the incidence of liver-enzyme alteration plateaued after 20 weeks," Ma said. "Patients should be followed closely by their treating physicians throughout their treatment course to monitor and manage potential side effects."
The study was supported by Gilead Sciences, which manufactures idelalisib. Ma has had a consulting or advisory role with Gilead Sciences.