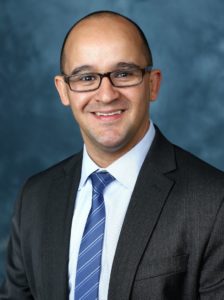 Visitor restrictions during winter months were associated with a significant decrease in the transmission of viral respiratory infections among hospitalized children, according to a recent study published in the Journal of the Pediatric Infectious Diseases Society.
"Our findings support consideration of year-round visitor restrictions and policies to reduce the transmission of healthcare-associated viral respiratory infections in children's hospitals," said first author Hawa Forkpa, MD, '18 GME, a graduate of the pediatric residency program at the McGaw Medical Center of Northwestern University and Ann & Robert H. Lurie Children's Hospital of Chicago.
The study was led by Larry Kociolek, MD, '15 MSCI, '14 GME, assistant professor of Pediatrics in the Division of Infectious Diseases and a physician at Lurie Children's.
Viral respiratory infections (VRIs) — such as influenza and respiratory syncytial virus — are frequently diagnosed in children's hospitals and are associated with increased mortality rates and healthcare costs. As such, nearly 90 percent of children's hospitals implement visitor restriction policies and practices (VRPPs) during winter months to reduce the spread of infections from visitors to patients.

However, there has been a lack of evidence to support the use of VRPPs, Kociolek explained.
In the current study, the Northwestern investigators wanted to understand the impact of VRPPs on the transmission of VRIs, in particular for viral infections that are prevalent year-round. To do so, they used a novel metric known as the VRI transmission index to control for month-to-month and season-to-season variation in community VRI prevalence.
The investigators analyzed data at Lurie Children's, where the winter VRPPs included limiting the number of visitors, restricting visitation by non-sibling children and restricting visitation by any person with VRI symptoms, among other policies and practices.
They discovered that the VRI transmission index was 59 percent lower during the winter months in which VRPPs were in place, compared to time periods when VRPPs were not.
Furthermore, the study found that transmission of VRIs frequently occurs during non-winter months, suggesting that year-round VRPPs may be beneficial.
"For some families, VRPPs can be viewed as an inconvenience. Having evidence to support VRPPs can be helpful in discussing concerns with families," Forkpa said.
Kociolek and Forkpa emphasized that visitors are important to the patient-family healthcare experience, and that VRPPs should strike an appropriate balance.
"We've identified family-friendly VRPPs that keep hospitalized children safe, while also allowing healthy visitors to visit — such as visitor symptom screening and improving access to technology, so children can connect with visitors remotely via video conferencing software on their phones or tablets," Forkpa said.
Forkpa, who is now a general pediatrician in Maryland, received the Resident Research Award for this study during the Lurie Children's Research Scholar's Day in 2018.
The research was supported by the National Institute of Allergy and Infectious Diseases of National Institutes of Health grant K23 AI123525, and in part by the National Center for Advancing Translational Sciences grant UL1TR001422.