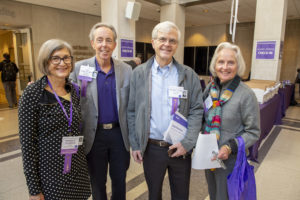 During medical school at Northwestern in the 1960s, Charles Putnam, '69 MD, PhD, completed a rotation in pediatrics at Children's Memorial Hospital, finding it to be one of his most impactful clinical experiences.
So when Putnam returned to Northwestern's campus this year to celebrate his 50-year class reunion during Alumni Weekend, he looked forward to touring the new Ann & Robert H. Lurie Children's Hospital of Chicago, built in 2012.
"I rotated on the leukemia ward at the old children's hospital, and that's when I think I really developed this visceral hatred of cancer. This was still pre-combination drug chemotherapy — and it was sobering," said Putnam, who spent time as a transplant surgeon before earning a PhD in molecular biology in 2004. He now conducts research in cancer biology and targeted immunotherapy as a professor at the University of Arizona.
It was just one of many experiences at Northwestern that left a lasting impression on Putnam, who also spoke of being on a surgery clerkship when riots broke out after the assassination of Martin Luther King, Jr., in 1968. "It was an interesting experience as a medical student, but more importantly in my life, I realized that there was tremendous injustice in the world. Those lessons never left," he said.
Putnam was one of more than 600 alumni and guests who gathered during Alumni Weekend on April 26 and 27 to reminisce, reconnect with classmates, and learn about the latest developments at the medical school.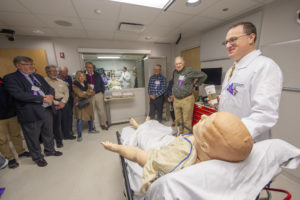 Over the weekend, alumni attended a variety of social and educational events, including class reunion dinners, continuing medical education sessions, visits to Chicago attractions, and tours of buildings around campus, such as the new Louis A. Simpson and Kimberly K. Querrey Biomedical Research Center.
On Friday afternoon, alumni also sat down with current Feinberg students during a mentoring lunch, which was organized around specialties. At the table for the Physician Assistant (PA) Program, recent graduate Jamie Hitro, '18 PA-C, was eager to give back to the current class of students.
"When I was a student, I benefited from the mentoring lunch during Alumni Weekends. So, it was nice to be able to go back today and meet with some of the students and be on the other side," Hitro said. "As a new grad, it's also great to have a chance to reconnect with classmates I haven't seen in the past year, as well as try to expand my network as I make my way into the professional field. I love that I can come back here and the faculty and staff all recognize me and want to check in and know where I am with my life."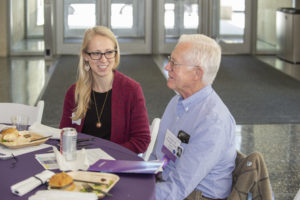 Following the lunch, Eric G. Neilson, MD, vice president for Medical Affairs and Lewis Landsberg Dean, hosted a "Conversations With the Dean" for alumni, guests, faculty and staff. Dean Neilson answered questions from the audience and provided an overview of the state of the school, highlighting Feinberg's research enterprise, rise in national rankings and plans for the future.
"This is a place that is constantly changing and evolving in many different ways," Neilson said.  "We are very proud of the tremendous faculty and students that we have brought here, and we have really wonderful, innovative healthcare to offer Chicago."
Throughout the weekend, alumni also attended educational forums led by Feinberg faculty, with topics changing from precision medicine and artificial intelligence to genomic therapies for blood disorders.
James McKechnie, '74 MD, an orthopaedic surgeon celebrating his 45-year class reunion, found these sessions particularly valuable. "It's been very interesting to meet with the students and to hear the faculty presentations," said McKechnie, who returns to Northwestern every five years for Alumni Weekend. "As somebody who is a retired orthopod, I enjoyed the sessions about heart and cardiovascular health and learned quite a few things. I always appreciate the opportunity to do that."
At the historic Drake Hotel, many alumnae gathered for the annual Women in Medicine Tea. During a panel session and interactive discussion, attendees from across different class years shared anecdotes and advice about career advancement, mentorship and work-life balance.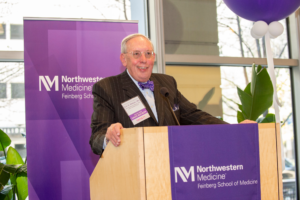 The session was moderated by Nupur Ghoshal, '03 MD, '99 PhD, an associate professor in the Departments of Neurology and Psychiatry at Washington University School of Medicine in St. Louis and a member of the Northwestern University Medical Alumni Association Board of Directors. Ghoshal, a graduate of the Medical Scientist Training Program (MSTP), shared stories of successes and challenges during her career in medicine. She also spoke fondly of her time at Northwestern.
"In my MSTP class there were six of us: two males and four females. The medical school class was 55 percent women in general. So, I have to say, in thinking about what we are going to be talking about, my Northwestern years were pretty pristine from a women in medicine standpoint," Ghoshal said.
The panel also included Margaret Danilovich, '07 DPT, PhD, assistant professor of Physical Therapy and Human Movement Sciences; Emily Jones, '08 MD, '11 GME, assistant professor of Medicine and Orthopaedic Surgery, and mentoring chair of the Medical Alumni Association Board of Directors; and Elizabeth Walters, '14 PA-C, a physician assistant at Northwestern Memorial Hospital.
On Friday evening, attendees gathered for an all-alumni reception, including drinks, dinner, dancing and a salute to the milestone reunion classes, ranging from the class of 1954 to the class of 2014.
The 2019 Distinguished Alumni Award was also presented to Richard Gillum, '70 MD, a pioneer in the field of cardiovascular health disparities and a co-founder of the Association of Black Cardiologists.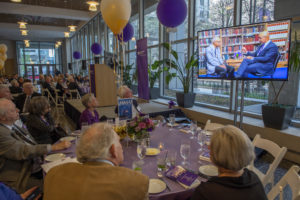 After graduating from Northwestern, Gillum became the first African-American internal medicine intern at Peter Bent Brigham Hospital (now Brigham and Women's Hospital) in Boston. He went on to conduct research in cardiovascular epidemiology at the National Institutes of Health and the Centers for Disease Control and Prevention.
"In medical school I decided that cardiology and cardiac physiology was really fascinating, and I learned that heart disease was the number-one killer in the U.S. — so it seemed like a worthy target for effort," said Gillum, now an adjunct professor at Howard University College of Medicine. "Then I started to learn about health disparities that affected blacks and other minorities regarding hypertension, stroke and heart disease."
A video conversation between Gillum and Clyde Yancy, MD, MSc, chief of Cardiology, the Magerstadt Professor and vice dean for Diversity and Inclusion, was screened at the reception.
"I hope that Northwestern will continue its proud history of offering opportunities for minorities and that they will continue a strong commitment to the Chicago community," Gillum said.