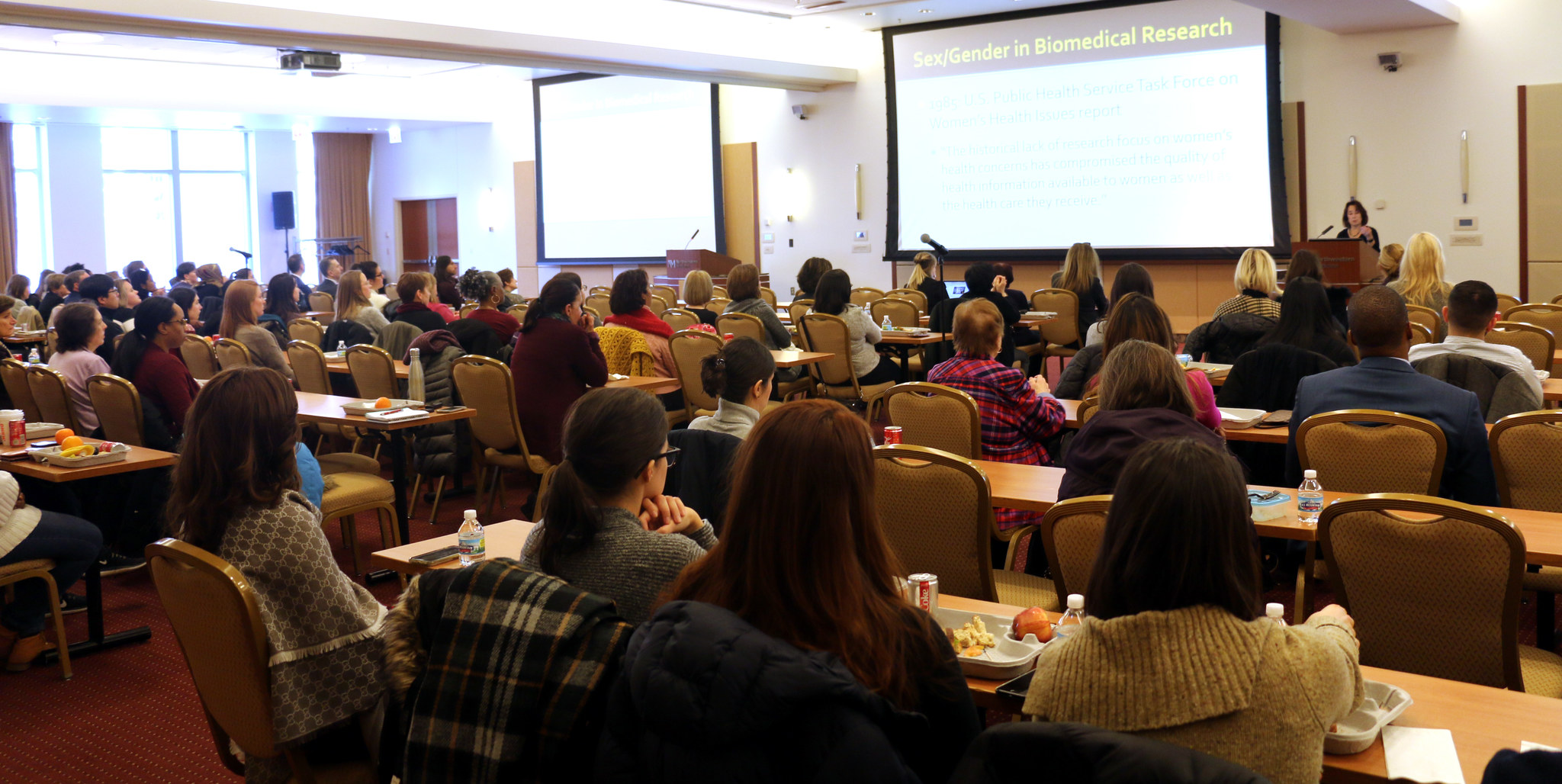 Northwestern investigators, clinicians and community members came together to discuss the importance of women's health research and mark the third anniversary of a landmark sex-inclusion policy by the National Institutes of Health (NIH).
"Today allows us to celebrate all of the work that has happened to drive new change in health and disease as we understand it through the prism of sex and gender," said Teresa Woodruff, '89 PhD, founder and co-director of the Women's Health Research Institute (WHRI). "This represents a new era of discovery and I think that when we look back in 5 or 10 or 20 years, we will see that all of our health has improved as a result."
Woodruff, also dean of the Graduate School, associate provost for Graduate Education, and chief of Reproductive Science in Medicine in the Department of Obstetrics and Gynecology, was an advocate for the NIH policy. The policy, set forth on January 25, 2016, requires all federally-funded investigators to consider sex as a biological variable in basic science and clinical research studies. In the past, scientists have predominantly used male cells and animals for their studies, even when investigating diseases prevalent in women.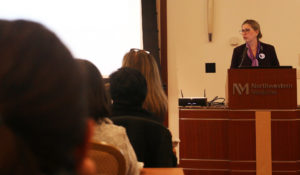 During the celebration, Marla Mendelson, MD, '87 GME, co-director of the WHRI, also announced the official relaunch of the Illinois Women's Health Registry, which links women to scientists and clinical research opportunities throughout the state. Women 18 and older fill out an annual survey about their current health and well-being. The registry, first established in 2009, recently underwent upgrades and now offers mobile- and tablet-friendly platforms.
"This is an important advancement," explained Mendelson, associate professor of Medicine in the Division of Cardiology and Pediatrics. "There will now be a group of information available to investigators at no cost so they can do major epidemiological and demographic studies of women. So what this does is actually correct the problem of not having enough women in studies."
Stacie Geller, PhD, director of the Center for Research on Women and Gender at the University of Illinois at Chicago, delivered the event's keynote speech, "Considering the Role of Sex and Gender in Biomedical Research."
During her talk, Geller provided an overview of the history of sex-inclusive research, including NIH and journal policies, as well as highlighted progress made since 2016. She also discussed the need for continued improvement, in particular in increasing the diversity of the biomedical workforce.
"My contention is: the questions we ask and the answers we get strongly depend on who's asking the question. It's not that men can't ask the right questions, but it's really important that we are including more women in the workforce," Geller said. "It fosters innovation and collegiality, and it brings really new perspectives to the table. We get better-quality science when we do this — that's the reality."
The winners of the 2019 Shaw Family Pioneer Awards, which support sex-inclusive research proposals by Northwestern investigators, were also announced at the event: Matthew Major, PhD, assistant professor of Physical Medicine and Rehabilitation, received a grant for his research on improving rehabilitation practice among women with leg amputations; while Bria Coates, MD, assistant professor of Pediatrics in the Division of Critical Care, was awarded for her research on the impact of sex in prepubescent influenza A virus infection.
This year's celebration also coincided with National Women's Health Research Day, as championed by Congress.
"Today is a really wonderful day of celebration, and we hope that every year on January 25 we remember this day as a day for working toward the health of everyone in our society," Woodruff said.