Listen to an episode of the Breakthroughs Podcast discussing this study:
A drug called palbociclib, used in combination with standard treatment, improved survival for women with hormone receptor-positive metastatic breast cancer, according to the results of a phase III clinical trial published in the New England Journal of Medicine.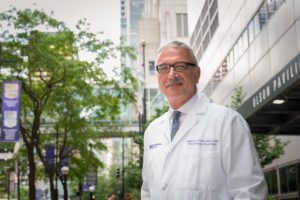 "The results of the study show that it is possible to improve and prolong the life of patients with hormone receptor-positive metastatic breast cancer. We now have solid data to suggest that this treatment should be the new standard of care," said principal investigator Massimo Cristofanilli, MD, professor of Medicine in the Division of Hematology and Oncology and associate director for Translational Research at the Robert H. Lurie Comprehensive Cancer Center of Northwestern University.
The majority of breast cancers are classified as hormone receptor-positive (HR-positive), indicating that the cancer cells grow in response to hormones, such as estrogen. Patients with HR-positive breast cancer are typically treated with hormone therapy, which prevents estrogen from attaching to receptors and fueling cancer growth. But over time, many patients develop resistance to such treatment, and there is significant need for new therapies for patients with advanced disease.
Palbociclib is a novel oral drug that inhibits cyclin-dependent kinase (CDK) 4/6 — enzymes important in cell division.
An international clinical trial called PALOMA-3 evaluated palbociclib in 521 women with HR-positive metastatic breast cancer who had relapsed or progressed after prior hormone therapy. (All participants also had HER2-negative breast cancer, a classification that indicates the cancer has little or no HER2, a protein which drives cancer growth.)
The trial participants were randomized to receive either palbociclib and fulvestrant (a standard treatment) or a placebo and fulvestrant.
In a previous analysis of PALOMA-3 led by Cristofanilli and published in The Lancet Oncology, palbociclib and fulvestrant was found to be associated with a significant improvement in progression-free survival, compared to fulvestrant alone.
The findings led to FDA approval of palbociclib for patients with HR-positive, HER2-negative metastatic breast cancer who experienced disease progression following hormone therapy.
The current study, published in the New England Journal of Medicine, reported overall survival outcomes for participants in PALOMA-3. It is the first to report overall survival data from a phase III trial testing a CDK4/6 inhibitor in this patient population, according to Cristofanilli.
The investigators found that palbociclib led to a clinically meaningful improvement in overall survival; median overall survival was 34.9 months in the palbociclib and fulvestrant group, compared to 28 months in the control group. The benefit was even greater in patients with sensitivity to prior hormone therapy.
"Typically, treatments for estrogen-positive metastatic breast cancer delay the progression of cancer but almost never prolong the life of patients. This treatment is the first of its kind to show such an important benefit," Cristofanilli said.
Cristofanilli is also director of the OncoSET Precision Medicine Program at the Lurie Cancer Center.
The study results were also presented at the European Society for Medical Oncology (ESMO) 2018 Congress in Munich on October 20.
The study was supported by Pfizer, which manufactures the drug.