Listen to an episode of the Breakthroughs Podcast discussing this study:
Metformin decreases lung inflammation induced by air pollution that triggers heart attacks and strokes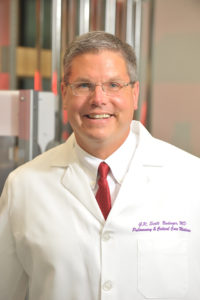 A common, safe and inexpensive drug for Type 2 diabetes, metformin decreases the risk of heart attacks and strokes triggered by air pollution by reducing inflammation in the lungs that triggers clotting, according to a new Northwestern Medicine study in human lung tissue and an animal model, published in Cell Metabolism.
Metformin flips a switch in immune cells that reside in the lung and continuously sample the air we breathe. It prevents those immune cells, macrophages, from releasing dangerous molecules into the blood that promote heart attacks and strokes after pollution exposure.
"These findings suggest metformin as a potential therapy to prevent some of the premature deaths attributable to air pollution exposure worldwide," said co-lead study author Scott Budinger, MD, the Ernest S. Bazley Professor of Airway Diseases and chief of Pulmonary and Critical Care in the Department of Medicine. Budinger is also a Northwestern Medicine pulmonary and critical care physician and a member of the Robert H. Lurie Comprehensive Cancer Center of Northwestern University.
More than 100 million people take metformin worldwide.
The drug works by targeting the mitochondria — the cell's energy center — in lung macrophages. When air pollution particles get into the lungs, the mitochondria release hydrogen peroxide that promotes inflammation and clotting. Metformin slows down the mitochondria and the release of hydrogen peroxide.
"The simplest next step would be to validate our study with metformin in people in China or other places where exposure to high levels of air pollution is common to see if it reduces inflammation," Budinger said.
Gökhan Mutlu, MD, chief of pulmonary and critical care medicine at University of Chicago Medicine, is also a co-lead investigator.
Air pollution remains an enormous U.S. public health problem, causing thousands of excess deaths in the Medicare population alone each year. The large majority of these deaths are due to heart attacks and strokes.
Because air pollution levels are about 10 times higher in China, India and other parts of the developing world compared to the U.S., the global health impact of air pollution is much larger, Budinger noted.
In the study, a pediatric formulation of metformin was given to mice in their drinking water for three days. It was an equivalent concentration to the dose people take for diabetes. Mice were exposed to air pollution from Chicago in a specially designed chamber that concentrates the particles to levels similar to those seen in China.
When mice were exposed to air pollution in the laboratory, their macrophages released an inflammatory molecule called IL-6, which has been linked to heart attacks and strokes. Metformin prevented the release of IL-6 and reduced the speed at which clots formed after an injury. The same findings were seen in lung macrophages from humans.
The findings are a result of Budinger's more than 20-year collaboration with Navdeep Chandel, PhD, the David W. Cugell, MD, Professor of Medicine in the Division of Pulmonary and Critical Care, who studies metformin and its effects on mitochondrial metabolism.
Three years ago, Chandel, who is also a member of the Lurie Cancer Center, and colleagues showed how metformin inhibits cancer progression. Studies had shown that the drug prevented cancer progression, but scientists didn't fully understand how it worked. Chandel's group discovered that metformin slows mitochondrial metabolism to prevent the growth of cancer.
To prove that targeting the mitochondria in macrophages could prevent inflammation in response to pollution, Budinger and Chandel created mice where lung macrophages lacked key mitochondrial proteins. Like the mice treated with metformin, these mice were protected against pollution-induced inflammation. These results suggest that "metformin is a pharmacological way of doing the same thing," Chandel explained.
"We know it's an anti-diabetic drug, it can be an anti-cancer drug, and now our study suggests it's a reasonable anti-inflammatory drug."
Currently the Chandel and Budinger labs are determining whether metformin can target mitochondrial metabolism to prevent or slow aging and age-related diseases including diabetes, inflammation, cancer and neurodegeneration. In parallel, other scientists are planning to give metformin to people over 65 to see if it can delay the onset of aging-related diseases in the Targeting Aging with Metformin (TAME) trial.
The paper is titled: Metformin Targets Mitochondrial Electron Transport to Reduce Air Pollution-Induced Thrombosis.
Other Northwestern co-authors are Harris Perlman, PhD, the Mabel Greene Myers Professor of Medicine and Chief of Rheumatology in the Department of Medicine, Alexander Misharin, MD, PhD, assistant professor of Medicine in the Division of Pulmonary and Critical Care, James Walter, MD, assistant professor of Medicine in the Division of Pulmonary and Critical Care, Manu Jain, MD, professor of Medicine in the Division of Pulmonary and Critical Care, Karen Ridge, PhD, professor of Medicine in the Division of Pulmonary and Critical Care, Richard Morimoto, PhD, professor in the Weinberg College of Arts and Sciences and of Neurology and Jacob Sznajder, MD, the Ernest S. Bazley Professor of Asthma and Related Disorders and professor of Medicine in the Division of Pulmonary and Critical Care, Sangeeta Bhorade, MD, professor of Medicine in the Division of Pulmonary and Critical Care, Ankit Bharat, MBBS, the Harold L. and Margaret N. Method Research Professor of Surgery in the Division of Thoracic Surgery, Murali Prakriya, PhD, professor of Pharmacology, Saul Soberanes, Amit Jairaman, Luisa Morales Nebreda, Alexandra C. McQuattie-Pimentel, Ching-I Chen, Monica Chi, Stephen Chiu, Francisco J. Gonzalez, Hiam Adbala-Valencia and Matthew Antalek.
The study was supported in part by grants ES013995, HL071643, AG049665, ES015024, ES025644 and ES026718 from the National Institutes of Health, Veterans Administration Grant BX000201 and Department of Defense grant PR141319.