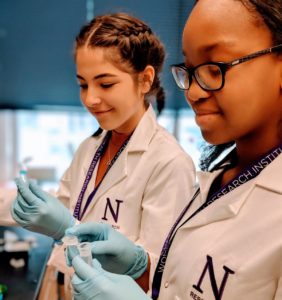 Jasmine Gulik arrived at Northwestern University Feinberg School of Medicine not knowing that by the end of the day she would isolate ovarian follicles, explore a patient simulator and try her hand at "surgery."
The Lane Tech College Prep junior joined 18 other Chicago public high school students on July 20 at Northwestern's annual Women's Health Science Program.
"The hope is that these students leave the university knowing that they are fully capable of becoming the next generation of leaders in science and medicine," said Nicole Woitowich, PhD, associate director of the Women's Health Research Institute (WHRI), which hosted the daylong event. "As a research institution, we have an ability to provide tools, such as academic resources and access to mentors, but it's the students themselves who are the change agents."
The Women's Health Science Program, now in its 11th year, provides hands-on laboratory and clinical experiences to young women who are considering careers in science and medicine, and prepares them with valuable knowledge and skills to be successful in high school, college and beyond.
"I love interacting with students, which made volunteering at this event such a great experience," said Constadina Arvanitis, PhD, research assistant professor of Cell and Molecular Biology and manager of Northwestern's Nikon Imaging Center. "I oversaw the microscopy station that students toured, helping them to visualize samples and learn a bit about confocal microscopy."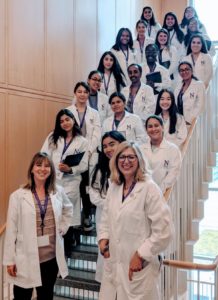 This year's cohort of students also learned about the field of oncofertility through lectures and laboratory exercises led by Teresa Woodruff, '89 PhD, dean of the Graduate School and director of the WHRI. While the morning session focused on basic sciences, the afternoon provided a series of clinically relevant experiences such as a tour of Northwestern Simulation and the Anatomy Lab. Students also spoke with Teni Brown, MD, a fellow in the Division of Female Pelvic Medicine and Reconstructive Surgery, about life as a physician.
"I was super excited to visit the Northwestern campus and I especially liked isolating follicles and learning about the cool research that is taking place," said Gulik, who is now considering a career in research. "It was my first time in a lab and I was really impressed and fascinated by all that I learned."
Gulik now joins a network of more than 250 Women's Health Science Program alumnae from throughout the Chicagoland area. A survey conducted in 2016 showed that all participants have gone on to attend a college or university.
"Although women make up 50 percent of the population, we only make up 28 percent of the scientific and engineering workforce. This disparity grows even larger, when considering women of color account for approximately 5 percent," Woitowich said. "It's incredibly important to support young women and provide them with experiences such as these, especially as they begin to make decisions about college majors and ultimately careers."
About the Women's Health Research Institute
The WHRI is a unique community of scientists, clinicians, students and advocates affiliated with Northwestern dedicated to improving women's health by advancing the field of sex-based biology. Housed in Feinberg, the Women's Health Research Institute is part of Northwestern Medicine. Established in 2006, the WHRI is led by founding director Teresa Woodruff, '89 PhD, a national leader in ovarian biology, endocrinology and women's health.