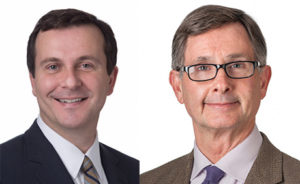 The Robert H. Lurie Comprehensive Cancer Center of Northwestern University has been awarded a new, five-year $11.5 million Specialized Program of Research Excellence (SPORE) grant to advance translational research and improve outcomes for patients with brain cancer.
The SPORE, a highly competitive award from the National Cancer Institute (NCI), makes the Lurie Cancer Center one of just six brain tumor programs nationwide to receive this designation and recognizes Northwestern as a premier institution for innovative, translational research. SPORE grants fund interdisciplinary, collaborative research projects in specific cancer types and are intended to rapidly move research discoveries from the laboratory into the clinic.
The Lurie Cancer Center's Brain Tumor SPORE will be focused on improving treatment for patients with glioblastoma, the most common and deadly type of brain tumor, with a median survival of just 15 months.
Maciej (Matt) Lesniak, MD, chair of Neurological Surgery and the Michael J. Marchese Professor of Neurosurgery, and C. David James, PhD, vice chair for research in the Department of Neurological Surgery and the Jean Malnati Miller Professor of Brain Tumor Research, will lead the SPORE.
"The SPORE mechanism recognizes outstanding translational work in the field of cancer; in our case, brain cancer. We have gathered together leading investigators and clinicians in the world and are very fortunate to rank among the most prominent neuro-oncology programs in the country, allowing patients in Chicago and around the country access to novel and cutting-edge therapy for malignant brain cancer," said Lesniak, also program leader for neuro-oncology at the Lurie Cancer Center.
The SPORE designation is the second for the Lurie Cancer Center. In 2015, the center received a renewed $11.3 million grant for its continued leadership of a SPORE in prostate cancer. The Prostate Cancer SPORE, first received in 2001, is one of only eight in the country.
The brain cancer SPORE will take a team science approach, bringing together basic scientists, neuro-oncologists and neurosurgeons for interdisciplinary research designed to identify novel therapies for glioblastoma.
"We have a critical mass of investigators in our brain tumor community who are uniquely focused on a specific brain cancer. Very few institutions in the country can match our depth and breadth of expertise," said James, also director of the Lurie Cancer Center's Developmental Therapeutics Core and the scientific director of The Northwestern Medicine Lou and Jean Malnati Brain Tumor Institute of the Robert H. Lurie Comprehensive Cancer Center of Northwestern University at Northwestern Memorial Hospital.
The grant will fund four key research projects in this area:
Project 1: Neural Stem Cell Based Oncolytic Virotherapy of Malignant Glioma
Project 2: Simultaneous Radiotherapy with PD-1 and IDO1 Blockade for Overcoming Immune Suppression in Glioblastoma
Project 3: Using RNAi-based Spherical Nucleic Acid (SNA) Nanoconjugates Targeting Bcl2L12 to Promote Therapy-Induced Apoptosis in Glioblastoma
Project 4: Inhibiting Novel Autophagy Mediator ATG4B for Treating Glioblastoma
Each project will be co-led by a group of investigators with complementary expertise.
The SPORE also includes an administrative core, a biospecimen core and a biostatistics and bioinformatics core. A developmental research program will also enable future translational research, and a career enhancement program will facilitate the career development of early-stage investigators in the field of neuro-oncology.
"We're excited about this prestigious award. This remarkable accomplishment reflects the exceptional leadership of Matt Lesniak and C. David James, who also oversee the research efforts of the Lurie Cancer Center's Brain Tumor Program. The Program has benefitted tremendously from the support of the Lou Malnati Cancer Research Foundation, who recently made a transformative gift to our Brain Tumor Institute," said Leonidas Platanias, MD, PhD, director of the Lurie Cancer Center and the Jesse, Sara, Andrew, Abigail, Benjamin and Elizabeth Lurie Professor of Oncology. "The strength of the science behind this award and the innovative research of our investigators will impact our patients today, tomorrow and for generations to come."