"This was a page-turning moment," said Brandon Caldwell, MS, a first-year medical student. "Medical school started to feel 'real' during orientation week, but when I recited the oath, it felt like it was time to roll up my sleeves and get to work."
Founders' Day, an annual ceremony held August 10 this year, welcomes first-year medical students to campus, honors Feinberg's founders and marks the official start of the academic year.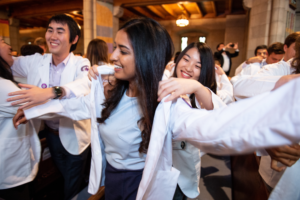 Caldwell was one of the 160 members of the Class of 2022 who gathered at the event, celebrating with their family, friends and the second-year medical students who presented the incoming students with their white coats.
"I'm delighted to see the families and friends who have come to welcome their loved ones as they write the next chapter of the story of Feinberg," said Eric G. Neilson, MD, vice president for Medical Affairs and Lewis Landsberg Dean. "Founders' Day is a tradition here in the medical school, but it's also about the future. It's where we start our academic year, a new beginning for students and staff."
During his opening address, Neilson touched on Feinberg's distinguished history and shared with students the unique responsibilities of the medical profession.
"An obligation to serve patients to the best of your ability no matter the circumstances is at the very core of the profession; this is the principle of altruism," Neilson said.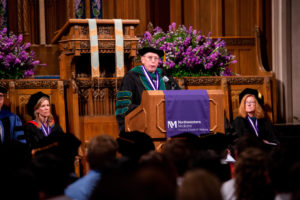 Jonathan Holloway, PhD, provost of Northwestern University, followed with his own remarks.
"This is a community made up of an intricate network of talented and caring people who want to contribute in positive ways to a better tomorrow," he said. "It's a community that shares the complex and simultaneous obligations to honor the past while seeking new ways forward."
The Founders' Day address was delivered by Susan Quaggin, MD, chief of Nephrology and Hypertension in the Department of Medicine, director of the Feinberg Cardiovascular and Renal Research Institute and the Charles H. Mayo, MD, Professor.
"Over the course of your careers there will be amazing changes that you can't even predict," Quaggin said. "From precision medicine and artificial intelligence to a focus on health disparities, it's going to empower each of you to find your passion."
Next, Diane B. Wayne, '91 MD, vice dean for Education and the Dr. John Sherman Appleman Professor of Medical Education, led the white coat ceremony, where students don their white coats for the first time. This moment was a lifelong dream come true for many students, including Julia Murphy, a first-year student from Denver, CO.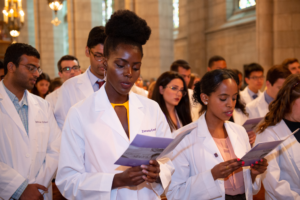 "My M2 sibling put the white coat on me," said Murphy. "I liked the symbolism of doing it together, an older colleague welcoming you into the profession. It felt special to stand up in a crowd of clean white coats."
Clad in white, the first-year students recited the Declaration of Geneva, the modern incarnation of the historic Hippocratic Oath.
"Reciting the oath as a class gave us a sense of community, something that will help us over the next four years," said first-year student Dane Sannes.
The event also featured an award ceremony for second-year students, who were selected by their peers for their leadership and recognized with M2 Student Senate Service Awards. Those students include:
Jordan Coleman, for his commitment to vulnerable populations in Chicago through work with Chicago Medicine Street Outreach
Maya Jackson-Gibson, for her efforts in leading student groups Students for Choice and the Health Professions Recruitment & Exposure Program (HPREP)
Kelsey McAfee, for bringing the Class of 2021 together with a shared love of baked goods, in the form of 150 muffins baked every Monday for the entire class
Mohan Ravi, for his unending positivity and willingness to assist classmates — as one classmate put it, "I've never left a conversation with Ravi without a smile on my face"
Samantha Schroth, for her work as an advocate for people with disabilities and developing the Day in a Wheelchair experience for her classmates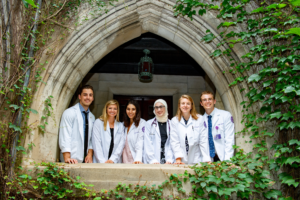 The Student Senate Engagement Award, which recognizes the student organization that best represents leadership, student engagement and service, was presented to Chicago Medicine Street Outreach, a student-run program that provides basic care and social support to homeless people in the Streeterville area. Alex Ayala, a second-year student in the MD/MPH Combined Degree Program, accepted the award on behalf of the organization.
After the ceremony, Feinberg students, faculty and guests gathered at the Nathan Smith Davis Founders' Day reception, sponsored by the Feinberg Medical Alumni Association.
View a photo album from Founders' Day.