This article was originally published in the Breakthroughs Newsletter. Find more stories like this, as well as the new Breakthroughs Podcast, on the Breakthroughs homepage.
At the Robert H. Lurie Comprehensive Cancer Center of Northwestern University, the collaborative team of investigators dedicated to confronting cancer has never been stronger.
In August, the Lurie Cancer Center was awarded the highest rating possible from the National Cancer Institute (NCI) — an overall "exceptional" score — during the renewal of its designation as a Comprehensive Cancer Center.
As a Comprehensive Cancer Center, the Lurie Cancer Center not only provides world-class clinical care to patients, but also integrates the spectrum of cancer research — laboratory work, clinical investigation and population studies — to more rapidly and meaningfully impact outcomes. The idea is that such a team approach both better serves patients today and cultivates discoveries that lead to tomorrow's treatments.
This year's NCI score, also the highest in the history of the Lurie Cancer Center, brings with it more than $31 million in core funding — a dramatic 36 percent increase over the previous award — and provides essential support for the center's research programs, infrastructure and shared facilities.
The rating is a nod to the extraordinary growth of the Lurie Cancer Center over the previous five years, as well as a window into what's to come: The grant renewal will have a profound impact not only on patients living with cancer across Chicagoland, but also in driving scientific discoveries capable of reducing cancer burden worldwide.
"The success of our cancer center reflects the innovation and remarkable achievements of our talented clinicians, clinical investigators, scientists and staff," said Leonidas Platanias, MD, PhD, director of the Lurie Cancer Center. "We are now positioned among an elite group of top cancer centers in the country. We look forward to expanding our capabilities and intensifying our efforts to defeat cancer as a disease."
Designated as a Leader
 This year's renewal marks the fourth consecutive time the Lurie Cancer Center has been awarded the prestigious "comprehensive" designation.
The NCI assigns numerical scores to centers on a unique scale from 10 to 90, with 10 being a perfect score. This year, the Lurie Cancer Center received the highest possible qualitative rating of "exceptional" and earned a near-perfect impact score of 12 — a leap from the previous score of 20 in 2013.
A score of 12 is essentially like receiving a 98 percent out of 100, explains Aleksandar Zafirovski, MBA, associate director for Administration, and Renee Webb, associate director for Research Administration. Simply put, the NCI score signifies that the nation's experts consider Lurie one of the best cancer centers in the country.
The renewal is the result of a rigorous peer-review process that includes more than a year of preparation, intensive analysis by leading scientists on a wide range of measurements — from NIH funding to high-impact research publications to recruitment to clinical trials — and an intensive site visit.
Hard numbers clearly demonstrate the Lurie Cancer Center's progress over the last five years: NIH research funding has soared nearly 50 percent (an incredible improvement, given a national downward trend), enrollment in clinical trials has more than doubled, and 90-plus new faculty members have been recruited since the previous review.
"The score is really a reflection of the system as a whole, and every individual piece that makes it up," Zafirovski said. "Everyone here — every lab technician, every staff member whether in the clinic or a core facility, all the way up to leadership — had an impact."
Team Science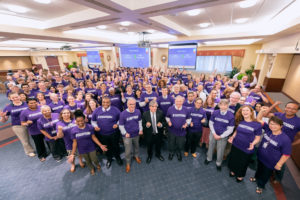 Within the Lurie Cancer Center, more than 300 investigators throughout Northwestern come together with a shared goal of improving patient outcomes through innovative cancer research.
As members of the Lurie Cancer Center, investigators receive access to special training programs and intramural research funding opportunities, plus and special pricing for shared facilities and resources fundamental to understanding cancer.
"The shared resources provide our scientists with state-of-the-art instruments and techniques, many of which are far beyond the budgets of individual laboratories," explained Milan Mrksich, PhD, associate director for Shared Resources at the Lurie Cancer Center. "Funding from the NCI allows us to purchase these instruments and hire expert staff to collaborate with our scientists."
Beyond such resources, by joining basic, clinical and population-based investigators into one dedicated hub, the Lurie Cancer Center fosters collaboration critical to cancer discovery.
"The NCI reviewers recognized that by bringing together a unique and powerful combination of nanotechnology, chemistry and life sciences across the Evanston and Chicago campuses, we are uniquely positioned to translate what have been historically great basic science discoveries into innovative treatments and diagnostics," explained Kathleen Green, PhD, the Lurie Cancer Center's associate director for Basic Sciences Research.
The team's research efforts also include population science programs that scored high in the grant review.
"Scientists in our division are national leaders and trendsetters in behavioral and biological approaches to preventing cancer, evaluating and improving the quality of life of people living with cancer, and extending principles and practices of cancer prevention and control into our diverse Chicago community," said David Cella, PhD, associate director for Cancer Prevention and Control Research at the Lurie Cancer Center.
Looking Forward
With a solid structure in place, the Lurie Cancer Center now has its eyes on the future.
Basic science remains the bedrock of cancer research and will be an important area of growth over the next grant period, which runs through 2023. In particular, cancer immunotherapy, metabolism, epigenetics, physical sciences and nanotechnology will be key areas of focus in the coming years.
In the realm of clinical research, the Lurie Cancer Center plans to enhance precision medicine capabilities and further expand the translation of scientific discoveries into clinical trials.
A 20 percent increase in research space, with the upcoming completion of the Louis A. Simpson and Kimberly K. Querrey Biomedical Research Center, will also help aid this ambitious research growth.
Clinically, scaling to communities across Chicagoland, in order to bring novel treatments closer to where patients live, will also be a key mission moving forward. Just as important will be expanding scientific partnerships.
"Our track record was fantastic before, but it's even more fantastic now. This will open up the door for collaborations at multiple levels with other academic institutions, private entities, pharmaceutical companies and foundations," said Maha Hussain, MD, deputy director of the center. "The fact that within a short period of time, the strength and impact of the Lurie Cancer Center has increased so significantly means the sky is really the limit now."