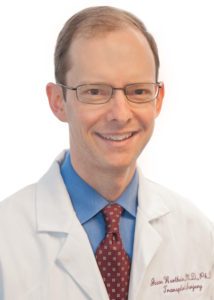 Jason Wertheim, MD, PhD, vice chair for research in the Department of Surgery, has been named associate director for admissions of Feinberg's Medical Scientist Training Program (MSTP).
"I am very honored and thrilled to work with our physician-scientists in training and prospective students in the Medical Scientist Training Program," Wertheim said. He is also the Edward G. Elcock Professor of Surgical Research and associate professor of Surgery in the Division of Organ Transplantation. "I look forward to interacting with students, engaging with the clinical and research community at Northwestern and working with MSTP Director Hossein Ardehali and the program's staff to develop successful graduates and leaders in academic medicine."
The MSTP program prepares students for careers as physician-scientists with a dual MD/PhD degree. The program, which enrolls up to 15 students each year, consists of an integrated seven- to eight-year course of study.
"I am delighted to work with Jason on the MSTP leadership team," said Hossein Ardehali, MD, PhD, director of the MSTP and professor of Medicine in the Division of Cardiology. "Jason, as a former MSTP student, is familiar with the MD/PhD program and has shown great insight and understanding of the training process. He has been involved in MSTP admissions for a number of years and will now serve as the Chair of the Admissions Committee. Given his background and commitment to the program, I am confident that he will play a major role in recruiting top students to Northwestern's MSTP."
Ardehali is also director of the Center for Molecular Cardiology at the Feinberg Cardiovascular and Renal Research Institute, a professor of Pharmacology and a member of the Robert H. Lurie Comprehensive Cancer Center of Northwestern University.
Wertheim is a clinical transplant surgeon and leads a laboratory at Feinberg focused on tissue engineering and organ regeneration. He is a member of the National Institutes of Health's (Re)Building-a-kidney consortium. His research group uses cell biology and bioengineering to develop liver, kidney and blood vessel tissue as a cutting-edge solution to organ shortage.
The medical school has graduated students from a joint MD/PhD program since 1928 and was one of the three initial MSTP programs funded by the National Institutes of Health (NIH) in 1964.
To date, 242 physician-scientists have received MD/PhD dual degrees from Northwestern University, advancing on to careers as medical school faculty members and leaders in the pharmaceutical and biotech industries, as well as public research organizations including the NIH.
Wertheim earned his doctoral degree in bioengineering from the University of Pennsylvania in 2002, where he also earned his medical degree in 2004. He completed his residency in general surgery at the Massachusetts General Hospital, and a fellowship in abdominal transplantation at the University of California, Los Angeles. He holds a bachelor's degree in chemical engineering from the Massachusetts Institute of Technology.
Wertheim is also an associate professor at the McCormick School of Engineering and a member of the Simpson Querrey Institute and the Chemistry of Life Processes Institute.