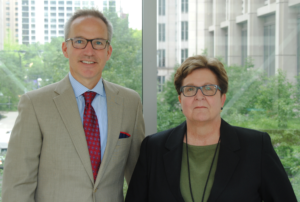 The American Association of Neuropathologists will be headed by two Northwestern Medicine faculty for the 2019-2020 term — the first time in the 95-year history of the organization in which both the president and vice president hail from the same institution.
Daniel Brat, MD, PhD, chair and Magerstadt Professor of Pathology, will serve as president and Eileen Bigio, MD, the Paul E. Steiner Research Professor of Pathology, will serve as vice president. The appointments were announced at the American Association of Neuropathologists (AANP) 94th Annual Meeting, held in early June in Louisville, Kentucky.
"I'm proud to represent Northwestern as the president of the organization, but it feels even better to have Eileen as the vice president," said Brat, who is also a member of the Robert H. Lurie Comprehensive Cancer Center. "Having two people from the same institution says a lot about the strength of the neurosciences at Northwestern."
Brat and Bigio will design the schedule and curriculum for the upcoming AANP 96th Annual Meeting, to be held in Monterey, California in 2020. Brat said that his expertise in brain tumors and Bigio's experience with neurodegenerative diseases will ensure inclusion of the latest ideas from two of the biggest areas of neuropathology. In addition, advances in molecular genetics will be of particular focus in a special day-long course.
"We're entering the molecular age, both in Alzheimer's research and in brain tumor research," Brat said. "It's a quickly moving field that requires continual updates."
The advent of efficient whole-genome screening and other molecular techniques have contributed to a deluge of information about why mutations occur and what downstream effects they have, explained Bigio.
"We've known about mutations causing familial Alzheimer's, for example, but we haven't known much about the multi-factorial genetic contributions to neurodegenerative disease," Bigio said. "That kind of investigation has just begun."
In addition to the day-long course on molecular genetics, the meeting will feature continuing education courses and presentations from neuropathology leaders across the world.
Read about some of Bigio's previous work on Alzheimer's disease, and a profile of Brat published in Northwestern Medicine magazine.