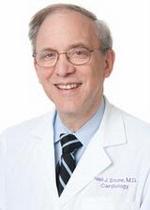 Neil Stone, MD, the Robert Bonow, MD, Professor, has received the 2018 Joseph Stokes, III, MD Award from the American Society for Preventive Cardiology (ASPC) for his achievements in preventive cardiology.
The annual award is bestowed in the honor of Stokes, a cardiologist and epidemiologist who served as co-principal investigator of the Framingham Heart Study starting in 1951.
"I was humbled to learn that I am to receive the award," said Stone, also a professor of Medicine in the Division of Cardiology and of Preventive Medicine. "Dr. Stokes played an important role in early studies of cardiovascular epidemiology that included the Framingham Study and the Honolulu Heart Study. The influence of these studies is extraordinary and still affects how I practice today."
Stone's research interests include lipid metabolism and cardiovascular nutrition. He has served on two of the National Heart, Lung and Blood Institute's (NHLBI) expert panels on cholesterol since 1988, panels which are responsible for cholesterol guidelines that affect treatment for millions of Americans. In 2013, this effort was shifted to the American College of Cardiology and the American Heart Association, and Stone chaired the panel during the release of the most recent guidelines in 2013.
"Dr. Stone is widely regarded as one of the pioneers in cardiovascular risk assessment. His unique contribution has been in crystallizing, developing and then promulgating the most important guidelines that now govern how millions of patients, nationally and internationally, receive care focused on reducing the risk for cardiovascular events," said Clyde Yancy, MD, MSc, vice dean for Diversity and Inclusion and chief of Cardiology in the Department of Medicine. "Beyond those seminal contributions, he is an exemplar as a doctor and a role model as a human. The only thing more impressive than his commitment to cardiovascular science is the depth of his integrity coupled with the sincerity of his spirit. He is a doctor's role model for how a doctor should be."
Stone received the award in March at the EPI-Lifestyle 2018 Scientific Sessions meeting in New Orleans. Stone credits his mentor Jeremiah Stamler, MD, professor emeritus of Preventive Medicine in the Division of Epidemiology, as one of his inspirations.
"The award is especially meaningful to me as I was 'hooked' on epidemiology after being assigned to Dr. Stamler on a clerkship in my senior year. He has been a source of advice and inspiration ever since," Stone said. "To be able to join him and such distinguished colleagues in the Department of Preventive Medicine here at Northwestern such as Drs. Greenland, Labarth and Lloyd-Jones is truly an honor. I am deeply grateful to the ASPC for this award."
Philip Greenland, MD, is the Harry W. Dingman Professor of Cardiology, professor of Preventive Medicine in the Division of Epidemiology, director of the Center for Population Health Sciences at the Institute for Public Health and Medicine (IPHAM) and a member of the Robert H. Lurie Comprehensive Cancer Center.
Darwin Labarthe, MD, PhD, MPH, is a professor of Preventive Medicine in the Division of Epidemiology.
Donald Lloyd-Jones, MD, ScM, is senior associate dean for Clinical and Translational Research and chair of Preventive Medicine, director of the Northwestern University Clinical and Translational Sciences Institute, the Eileen M. Foell Professor, and a professor of Medicine in the Division of Cardiology.
Yancy is also Magerstadt Professor and a professor of Medicine in the Division of Cardiology and of Medical Social Sciences.