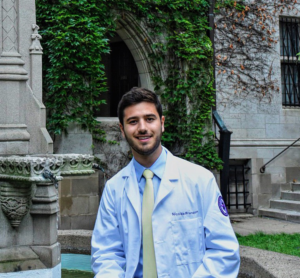 Nicolás Francone, a first-year medical student, found a passion for activism during his undergraduate studies at George Washington University in Washington D.C. At Feinberg, he combines his medical education with his desire to help eliminate health disparities among Hispanic populations.
Francone, who is Argentinian-American, conducts research with the Northwestern Medicine Hispanic Transplant Program, a bilingual care program for Hispanic patients undergoing kidney, liver, pancreas or small bowel transplantation. He also works with Nelson Bennett Jr., MD, associate professor of Urology, and Robert Brannigan, MD, chief of Male Reproductive Medicine and Men's Health in the Department of Urology, to eliminate disparities in urology treatments received by Hispanic patients.
However, Francone is no stranger to boots-on-the-ground advocacy, having traveled back to his former home of Washington D.C. for the 2017 Latino Medical Student Association (LMSA) Policy Summit in October, sponsored by Feinberg's Office of Diversity and Inclusion.
There, he lobbied for policies such as the Children's Health Insurance Program (CHIP) and learned about the complex medical and legal problems faced by recent unaccompanied immigrants and how physicians are in a unique positon to help these children.
In addition, Francone will be traveling in June to Puerto Escondido, Mexico, for a medical education trip sponsored by Northwestern University Alliance for International Development (NU-AID).
Read a Q&A with Nicolás Francone
Why did you choose Feinberg?
I wanted to be part of an institution that values personal growth, clinical excellence and innovation through research. Feinberg's balance of clinical and research components is well thought-out and I believed the early curricular emphasis on developing rapport with patients in simulated, hospital and community clinic settings would make me a compassionate clinician. In addition, I thought the innovative research community would push me to continually improve delivery of care.
What are your medical or research interests?
I am interested in studying interventions that improve access to and delivery of care in Hispanic populations. I'm currently involved in a urology group led by Dr. Brannigan focusing on male sexual dysfunction and infertility, and I intend to study disparities of treatment type in Hispanics.
I'm also conducting research with the Northwestern Medicine Hispanic Transplant Program, the first of its kind in the country. Led by Juan Caicedo-Ramirez, MD, associate professor of Surgery in the Division of Organ Transplantation, and Elisa Gordon, PhD, MPH, professor of Surgery in the Division of Organ Transplantation, this culturally-targeted program has increased the rate of live donor kidney transplants and our multi-site study is currently assessing the cultural competency of these programs and their impact on lowering Hispanic transplant disparities.
How did you get involved in political advocacy?
You can't escape a certain political fervor while attending college in Washington D.C. There, I got involved in La Clínica Del Pueblo, a clinic whose mission is to build a healthy Latino community. The impact of political rhetoric on the fears and insecurity of Latinos was palpable. Immigration status, divisive policies and insecurity in one's community are all major determinants of health — and I believe it's worse in today's political climate.
To that end, I attended the 2017 LMSA Policy Summit in October. Over two hundred physicians-in-training flew in from across the country with the same goal — to show power through advocacy.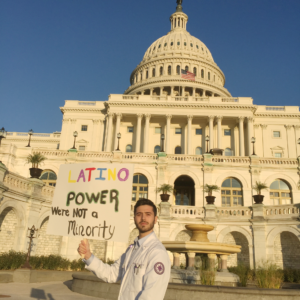 After students visited the offices of members of Congress to discuss passing a clean "Dream Act" and the status of CHIP funding, students gathered for the "A Healthy USA includes US" rally. In the shadow of the nation's Capital, medical students told stories and read poems, vibrantly illuminating their feelings of fear growing up as undocumented immigrants and their continued anxiety as recipients of the Deferred Action for Childhood Arrivals (DACA) program.
We were buzzing with energy and marched our way to the Capitol alongside other LMSA students, chanting in English and Spanish. The rally and march to the Capitol set the scene for the following 48 hours at the conference.
The next two days were filled with interactive sessions held by a variety of speakers, including Juan Rivera, MD, chief medical correspondent for Univision, and representatives from the Office of Minority Health at the Centers for Medicare and Medicaid Services. We spent time learning about recruitment efforts to increase the diversity of incoming medical school classes and emphasized the need for Latino physicians in leadership positions in all branches of medicine.
On the last day, we convened to review and debate policy initiatives proposed by LMSA Congress of Delegates and refined the group's policy platform.
What was the most important thing you learned?
The most important thing I learned was the immense challenges unaccompanied children face, both on the journey to the United States and once they arrive. Alan Shapiro, MD, medical director and co-founder of Terra Firma, a medical and legal partnership focused on improving access to care and legal sponsorship for unaccompanied children, took us on the journey of an unaccompanied child.
In 2016 alone, 60,000 unaccompanied immigrant children from Central America and Mexico were apprehended at the U.S.-Mexico border, according to Shapiro. We learned about the push away from their countries due to targeted gang violence and absurdly high homicide rates (El Salvador has 24 times the number of homicides compared to the U.S.). Children travel through Mexico riding on top of freight trains, a free but extremely dangerous transportation network called La Bestia.
Those who survive the journey are kept in Customs & Border Patrol processing centers until they are released to family contacts in the U.S. Resettled children face many mental health challenges and struggle in their new environment, according to Shapiro.
We learned how the medical-legal nexus empowers physicians to advocate for their patients by using medical records to increase rates of asylum for children new to the U.S. — 89 percent of unaccompanied children won asylum with medical evaluations, versus just 38 percent who won asylum without them.