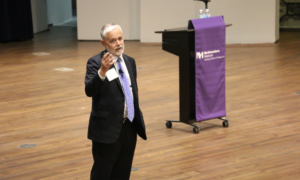 The inaugural session of the "MDs in Business" seminar series, organized by the Northwestern Medical Alumni Association Board, featured two Feinberg alumni discussing the lessons they learned working in the pharmaceutical industry.
The seminar featured Eugene Bauer, '67 MD, founder and chief medical officer of Dermira Inc., and Bruce Scharschmidt, '70 MD, currently an independent consultant to biotechnology companies and previously the senior vice president and chief medical and development officer at Hyperion Therapeutics.
Bauer said that the relationship between academia and industry has changed drastically over the years.
"Partnership between academia and industry meant industry got more access to discoveries, which gave them a better return on investment than if they had to build up the research enterprise internally," Bauer said. "At the same time, academic institutions got essential money to upgrade and build academic infrastructure."
A product he worked on that failed to reach the market taught Bauer a valuable lesson, he said.
"When you're working on ideas, expect to fail," Bauer said. "Have a tolerance for it — have a plan A, and if that doesn't work have a plan B, and if that doesn't work have a plan C."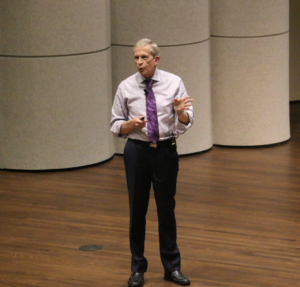 Scharschmidt echoed these thoughts, focusing on the stark differences between life as an academic physician and life as a pharmaceutical entrepreneur.
MDs in industry, Scharschmidt said, can have a much different experience than in academia — products often fail, and even a successful product can take years or decades to come to market. He also stressed the importance of getting to the point. Physicians are taught to establish trust and warmth, but there isn't always time for those niceties in meetings with hedge fund managers or investors.
"Make sure the first one or two sentences out of your mouth telegraph the message," Scharschmidt said. "You can backfill the details if time permits."
Both speakers said they were thankful to Northwestern for giving them the tools to succeed in clinical practice and private industry alike.
"I'm grateful to NU because it enabled me to think about my careers in medicine and industry in ways that were flexible," Bauer said.
"My education and experience as a practicing physician gave me valuable perspective, which I was able to bring to the table in industry," Scharschmidt added.
The next iteration of "MDs in Business" is tentatively scheduled for early 2018, with more Northwestern alumni taking part: Jeff Sherman, MD, '84 GME, chief medical officer of Horizon Pharmaceuticals, and Jordan Dubow, '03 MD, '07 GME, a pharmaceutical consultant who specializes in designing clinical trials.
The seminar series is meant to highlight entrepreneurs with a Feinberg pedigree, to give students, residents and fellows a window into corporate career paths, according to Jeffrey Masters, PhD, Northwestern Medicine senior director of corporate relations.
"We want to tell students where to go if they are interested in getting involved in clinical trials, for example," Masters said. "Or, if they are more entrepreneurial; how do you go about getting money, how do you launch an IP — these are the questions we want to answer."