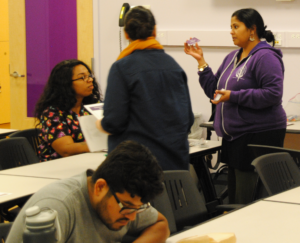 For a gunshot victim, timing is critical: research has shown that mortality rates increase sharply when patients must be transported long distances to the nearest trauma center, or when they lack access to high-quality pre-hospital care.
While Chicago has six level I trauma centers within the city limits, the South Side, especially the Southeast Side, has several neighborhoods more than five miles from the nearest level I trauma center; for trauma victims that distance can mean the difference between life and death.
To help trauma victims survive — wherever they are injured — Mamta Swaroop, MD, '10 GME, associate professor of Surgery in the Division of Trauma & Critical Care, designed an innovative solution: the Chicago South Side Trauma First Responders Course, a free program giving Chicago community members the tools to render first aid to trauma victims.
In countries with little pre-hospital trauma care, the World Health Organization recommends teaching interested community members basic first aid techniques to provide care while waiting for an ambulance or transporting an injured person to an appropriate facility. Simple maneuvers to stop bleeding can help trauma patients survive, Swaroop said.
Seeing the potential in a similar approach in Chicago, Swaroop applied these principles when designing the First Responders Course.
"Turning bystanders into immediate responders is a great way to care for patients," said Swaroop, founder and executive director of the Northwestern Trauma & Surgical Initiative (NTSI), which oversees the First Responders Course among several other projects.
The course focuses on the basics of first aid and scene management: Participants learn how to manage a victim's airway and how to properly apply pressure to a wound, all while keeping themselves safe. Particular attention is paid to managing the often-intense emotions at the scene, a section that was added after Swaroop received feedback from course participants.
The backgrounds of the attendees have varied widely, including people concerned for their friends and family, violence interrupters from CeaseFire Chicago, public school teachers and Northwestern medical students, residents and fellows.
One participant, Cassandra Hanna, said she attended the session held at the Northwestern Simulation lab because she saw another student die in a stabbing incident during high school.
"Nobody helped him, and he died in the street," she said. "I wanted to learn how to help, so I don't just walk by a situation like that again."
One Piece of the Larger Puzzle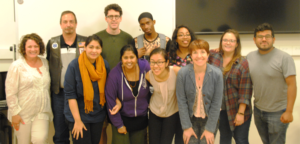 The First Responders Course is just one part of a three-tier approach envisioned by Swaroop to reduce trauma mortality in Chicago.
The first tier is a first-aid course offered by the American College of Surgeons, where participants learn how to place a hemostatic dressing or tourniquet. According to Swaroop, the course is more suited for teachers or school administrators because those are the individuals with access to first aid or "stop-the-bleed" kits.
"Your average community member is not going to have a tourniquet," Swaroop said. "The First Responders course still teaches participants how to use a tourniquet, but it also teaches people how to make a tourniquet out of a T-shirt, because that's what you've got."
The First Responders Course occupies the second tier, with a bigger focus on DIY solutions and transforming bystanders into caregivers.
"There were lots of things I've never thought about before, like using plastic bags if you don't have gloves," said Alberto Ramirez, another course participant.
Swaroop and her colleagues at the NTSI have even adapted the curriculum for use in high school health classes, replacing some of the more graphic photos with cartoons and breaking it into class-length segments.
The third tier is represented by the effort to partner with grassroots organizations such as Cure Violence to reach out to high-risk individuals. Many of them will respond better to peers than professors, so the relationships with these organizations are very important, Swaroop said.
"If they can teach people about these strategies, it empowers them to care for themselves," Swaroop said. "It takes this seemingly insurmountable issue of gun violence and shows them they can personally change something."
Swaroop is also a member of Northwestern University Clinical and Translation Sciences Institute (NUCATS).
The Chicago South Side Trauma First Responders Course is supported by the American College of Surgeons Chicago's Committee on Trauma, the Chicago Metropolitan Trauma Society, CeaseFire Chicago and NUCATS.