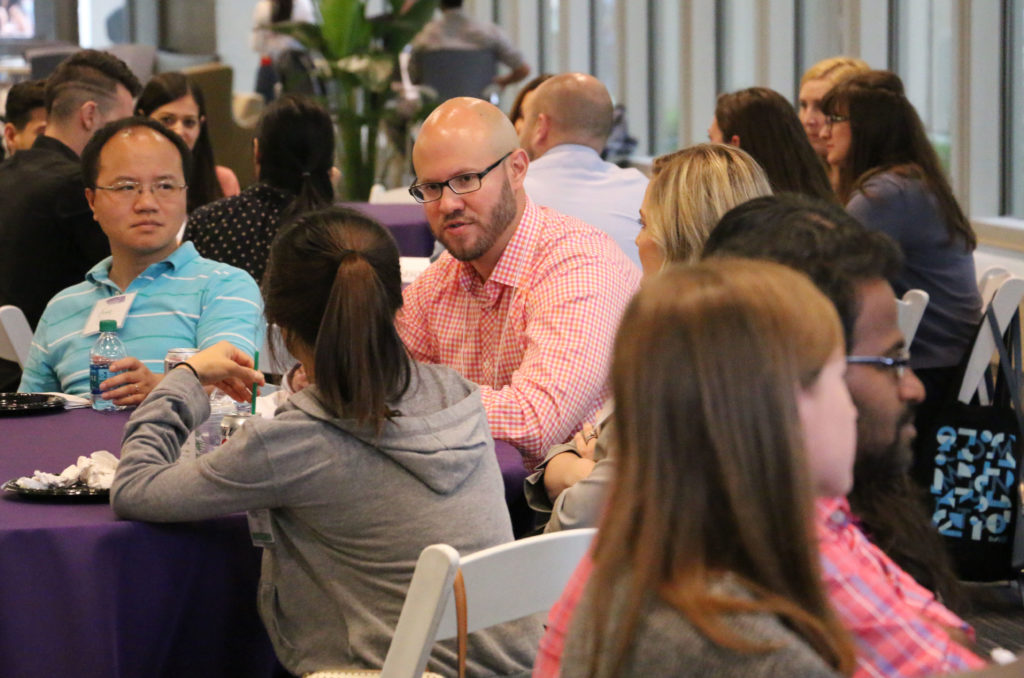 Graduate students and postdoctoral fellows in the biomedical field gathered last week for an all-day symposium dedicated to showcasing research and exploring careers in the biotech and pharmaceutical industries, as well as academia.
The event, "Current Research and Future Careers Symposium," was co-hosted by the Northwestern University Postdoctoral Forum (NUPF), an organization dedicated to creating community among postdoctoral fellows, and Northwestern's BioProfessionals career development program.
"We wanted to ensure that all postdocs and graduate students at Northwestern understand that academia, though an excellent path, isn't the only path, and that there is a diversity of intellectually challenging and fulfilling careers out there," said Dean Procter, PhD, chair of NUPF and an organizer of the event, as well as a postdoctoral fellow in the laboratory of Derek Walsh, associate professor of Microbiology-Immunology.
The symposium kicked off with two career panels dedicated to exploring both tracks. Breaking into Academia" featured discussions by Feinberg's Richard McGee, Jr, PhD, associate dean for faculty recruitment and professional development, as well as Gabriela Caraveo Piso, PhD, and Christina Zelano, PhD, both assistant professors of Neurology, and Steven Graves, PhD, research assistant professor of Physiology.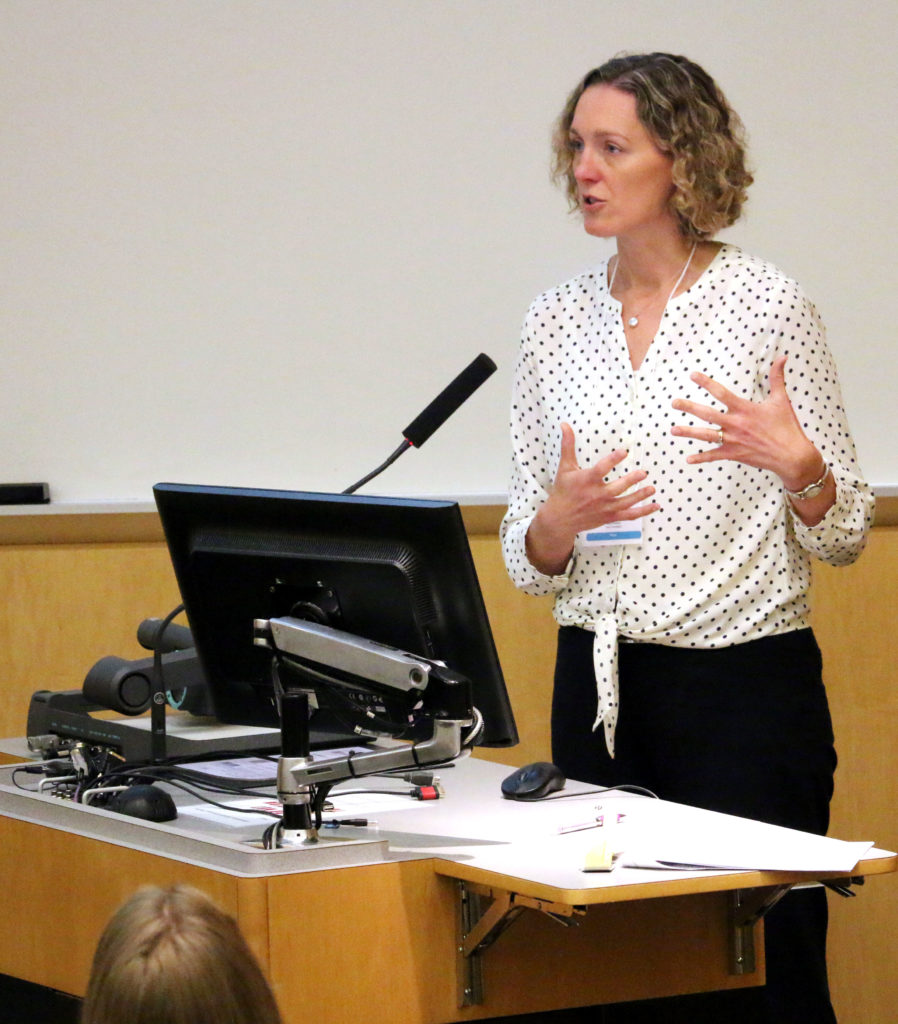 A "Breaking into Biotech and Pharma" panel followed, where scientists and leaders at companies such as Pfizer, AbbVie and Genentech discussed their career trajectories and provided advice to attendees.
The panelists also engaged with students and postdoctoral fellows directly in small groups during networking roundtable lunches.
"I found the symposium to be enlightening, engaging, and fun. I was excited to hear about the value placed on team-building and becoming a strong team member that was echoed by all of the industry panelists. I also learned a lot about the value of networking and building relationships with professionals across different backgrounds," said Eugene Wyatt, PhD, a postdoctoral fellow in the laboratory of Elizabeth McNally, MD, PhD, Elizabeth J. Ward Professor and director of the Center for Genetic Medicine. "Overall, I left hopeful and excited about the future."
Wyatt also presented his research on Limb Girdle Muscular Dystrophy Type 2C during the event's short research talks and poster session, which featured a mix of graduate students and postdoctoral fellows across a range of disciplines.
At the event's keynote speech, Meg Ruesch '98, PhD, a vice president at Pfizer, who studied in the laboratory of Laimonis Laimins, PhD, chair of the Department of Microbiology-Immunology, gave an overview of the various scientific roles behind the development of biologics, and discussed the critical skills scientists need to succeed in any career.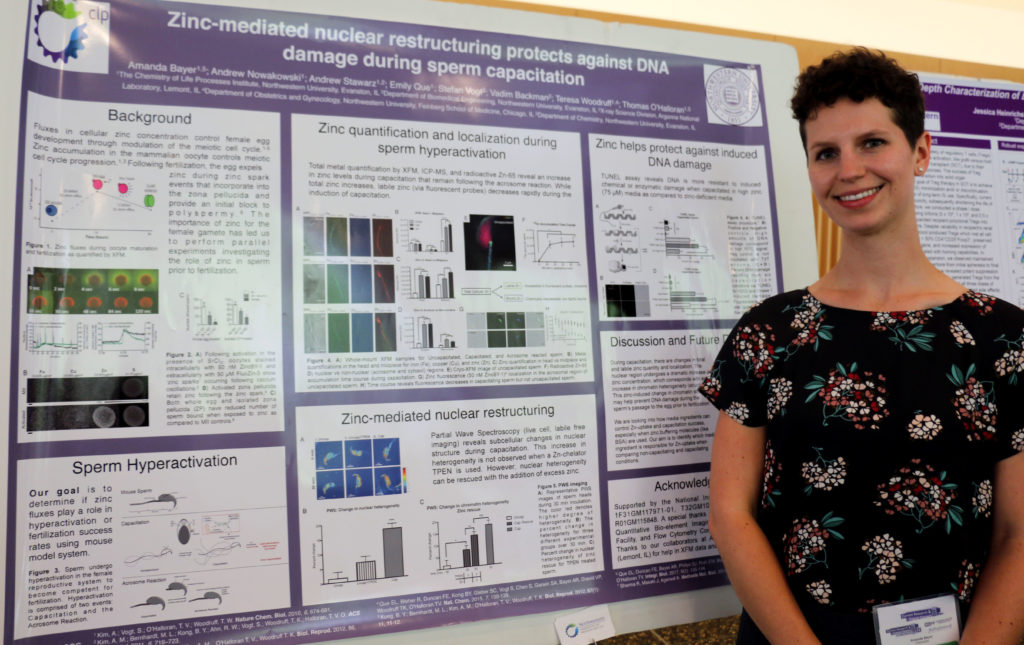 "This is the first time I've been to a symposium like this, and it was such a great opportunity to get a flavor of both academic science as well as industry," said Amanda Bayer, a fifth-year graduate student who is co-mentored by Teresa Woodruff, PhD, dean of the Graduate School and the Thomas J. Watkins Memorial Professor of Obstetrics and Gynecology, and Thomas O'Halloran, PhD, a professor of Chemistry at the Weinberg College of Arts & Sciences. "I felt very honored that such high-up people at industry companies took their time to come talk to us, and that we were given such an incredible networking opportunity."
Bayer, who studies how zinc affects male fertility, also presented her research at the symposium.
The event also included a viewing party of the afternoon's solar eclipse, and an evening reception for attendees.
The NUPF plans to host similar events in the future that both provide career development and foster community among postdoctoral fellows.
"Along with graduate students, postdocs are the workhorses at the bench. We're a critical cog in the research machine," Proctor said. "But a postdoc can also be an isolating journey — you've often uprooted your life to a new state or country and have to find a home, make new friends and master a new project very rapidly. That's why it's essential that we support and mentor each other. We need community so we can be advocates for ourselves."