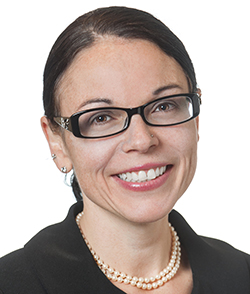 Melissa Simon, MD, MPH, '06 GME, the George H. Gardner Professor of Clinical Gynecology, will receive the 2017 Marion Spencer Fay Award in recognition of her contributions to women's health, health equity and national health policy.
The award, presented annually by the Drexel University College of Medicine Institute for Women's Health and Leadership, is given to a distinguished woman physician or scientist who has made a significant impact on healthcare. It is named after Marion Spencer Fay, PhD, the former dean and president of Woman's Medical College of Pennsylvania.
"I am completely humbled by such a genuine honor to join the ranks of the highly accomplished recipients of this award," Simon said. "Dr. Fay's legacy is unparalleled as a true champion for women, planting the seeds of opportunity for us to excel in every direction."
Simon is also the vice chair for clinical research in the Department of Obstetrics and Gynecology and a professor in the Departments of Preventive Medicine and Medical Social Sciences.
In January, Simon was appointed to the U.S. Preventive Services Task Force (USPSTF), where she serves on a panel of national experts in prevention and evidence-based medicine.
Simon's research is focused on interventions that aim to eliminate health disparities among underserved women, especially those affected by cancer, and improve overall access to the healthcare system. She is the founder and director of the Chicago Cancer Health Equity Collaborative and co-program leader for cancer control and survivorship at the Robert H. Lurie Comprehensive Cancer Center.
"Dr. Simon is a fearless leader who has made significant contributions to women's health, and her contributions to community-engaged research have been acknowledged worldwide," said Serdar Bulun, MD, chair and John J. Sciarra Professor of Obstetrics and Gynecology.
Simon is also an elected member of the National Academy of Medicine (NAM) Roundtable on the Promotion of Health Equity and Elimination of Health Disparities and the NAM Care, Culture and Decision Making Innovation Collaborative. She serves as chair of the National Institutes of Health standing study section, Dissemination and Implementation Research in Health.
After earning her medical degree from Rush Medical College, Simon completed a residency at Yale University, followed by a fellowship in family planning at Northwestern. She earned her bachelor's degree from the University of Chicago and a master's in public health from the University of Illinois at Chicago.
Simon will receive the award at a ceremony in Philadelphia in November, where she'll also deliver the Marion Spencer Fay Award Lecture.