Donald Lloyd-Jones, MD, ScM, senior associate dean for clinical and translational research and chair of Preventive Medicine, has been named Physician of the Year by the American Heart Association (AHA).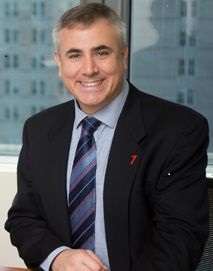 "It is both an enormous honor and humbling to be selected as the American Heart Association's Physician of the Year," Lloyd-Jones said. "It is especially meaningful since I follow our own Drs. Clyde Yancy and Neil Stone, who are my heroes and past AHA Physicians of the Year. Northwestern is the only institution in the country with three awardees, and I think that speaks volumes about what we are building here, and the special relationship between the AHA and Northwestern Medicine."
The AHA's Physician of the Year award is presented annually to a practicing physician who has rendered outstanding contributions to the accomplishment of AHA's mission: to build healthier lives, free of cardiovascular diseases and stroke. The AHA honored Lloyd-Jones based on his two decades of service to the association and his efforts to improve patient outcomes and create healthier communities across the nation.
Lloyd-Jones is also director of the Northwestern University Clinical and Translational Sciences Institute (NUCATS), a professor of Medicine in the Division of Cardiology, and the Eileen M. Foell Professor of Heart Research.
"I am proud of leading the American Heart Association's efforts to expand their mission into promoting cardiovascular health," Lloyd-Jones said. "For decades, the AHA has been at the forefront of clinical efforts to reduce death and disability for cardiovascular diseases and stroke. In this decade, the AHA has added a bold new focus on improving the cardiovascular health of all Americans, to prevent cardiovascular disease and its causal risk factors in the first place. I was fortunate to chair the committee that defined the construct of cardiovascular health and the AHA's strategic goals for this decade. To see the AHA put its shoulder to the wheel of prevention and better public health across the nation, in communities and with individuals across the life course, has been truly exciting. Together, we are making a huge difference, not least because of the groundbreaking research we do here at Northwestern that supports that mission."
Lloyd-Jones was also inducted this year into the Association of American Physicians, one of the most prominent honorary medical societies in the nation.
The AHA, based in Dallas, is the nation's oldest and largest voluntary organization dedicated to fighting heart disease and stroke. Its mission is to save people from heart disease and stroke, the two leading causes of death in the world. It teams with millions of volunteers to fund innovative research, advocates for stronger public health policies, and provides lifesaving tools and information to prevent and treat diseases.
Read a profile of Lloyd-Jones and his work, published by the American Heart Association News.