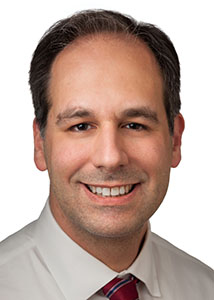 Patients with double-hit lymphoma — a rare and aggressive variant of non-Hodgkin lymphoma — who achieved remission and underwent autologous stem cell transplantation did not remain in remission or live longer than patients who did not receive the procedure, according to a new study published in the Journal of Clinical Oncology.
In a second finding, the study discovered that patients who had received intensive front-line chemotherapy prior to remission achieved better long-term outcomes compared to those who underwent a standard chemotherapy regimen.
The paper was co-authored by Jason Kaplan, MD, assistant professor of Medicine in the Division of Hematology and Oncology, Amir Behdad, MD, assistant professor of Pathology, and Adam Petrich, MD, adjunct assistant professor of Medicine in the Division of Hematology and Oncology.
Double-hit lymphoma (DHL) is a high-grade form of B-cell non-Hodgkin lymphoma characterized by genetic rearrangements; outcomes tend to be poor, with an overall survival of less than two years, and prognosis after a relapse is particularly poor.
In some cases, patients who achieve a complete remission after chemotherapy also undergo autologous stem cell transplantation, with the hope that the procedure will put patients into a longer-lasting remission.
The strategy has been controversial, however, as the therapy is potentially toxic, and there had been no prior large-scale studies to confirm any benefit to the stem cell transplants, due to the rarity of the disease.
In this multicenter study, investigators analyzed data from 159 DHL patients who had achieved remission — the largest number in such a study to date — and discovered that stem cell transplantation did not provide patients any clear benefit. There was no significant differences in three-year relapse-free survival, or overall survival, between the two groups.
On the other hand, patients who underwent intensive front-line therapy were found to achieve better three-year relapse-free survival rates, compared to those who received a standard regimen (rituximab plus cyclophosphamide, doxorubicin, vincristine and prednisone, or "R-CHOP").
While the findings support the strategy of intensive front-line therapy without autologous stem cell transplantation for patients with DHL, and provide the best evidence to date, the authors note that the study is limited by its retrospective nature.
"The results of this study are provocative, but should not be considered practice-changing. Despite these results, I suspect that it will still be common practice to recommend that patients with double-hit lymphoma undergo autologous hematopoietic stem cell transplant in first remission," Kaplan said. "A prospective randomized controlled trial would be needed to more accurately assess the role of consolidative stem cell transplant for double-hit lymphoma patients."
Kaplan and Behdad are also members of the Robert H. Lurie Comprehensive Cancer Center of Northwestern University.
Kaplan has received research funding from Janssen and Seattle Genetics and traveling fees from Curis. Petrich is an employee of AbbVie.