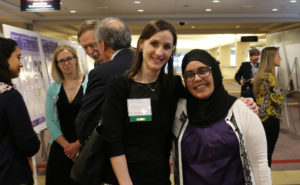 On June 16, faculty and alumni of Northwestern University Feinberg School of Medicine's Healthcare Quality and Patient Safety (HQPS) graduate programs gathered to celebrate the ten-year anniversary of the programs, the first of their kind in the United States.
The celebration opened with a poster competition featuring winning quality and safety posters from faculty and alumni, along with projects and achievements from current HQPS students and alumni.
Leadership from Feinberg and clinical affiliates spoke about the creation of the HQPS programs, the current role of quality and safety improvement programs in the clinical setting, and plans for the future to advance efforts for education and excellence. A panel of experts and innovators in the field wrapped up the morning session with stories of their own efforts to bring quality improvement to healthcare.
"The most remarkable thing about the HQPS program is the quality of the instructors and the depth of experience of classmates," said Jeff Trimark, MD, MS, a practicing internist who traveled from Kenosha, Wisconsin, to attend the program. "It's a small class, about 20 people, but they all share a similar passion and know that they need to work in teams."
HQPS students include not only physicians, but also nurses, social workers, hospital administrators and lawyers.
According to a 2016 report from the U.S. Department of Health and Human Services' Office of the Inspector General, medical errors are the third leading cause of death after cardiovascular disease and cancer in America.
Northwestern was the first university in the United States to offer graduate-level programs in healthcare quality and patient safety, graduating its first class of Masters of Science students in 2008 and its first PhD class in 2012.
James Adams, MD, chair of Emergency Medicine and chief medical officer for Northwestern Medicine hospitals; Rex Chisholm, PhD, vice dean of Scientific Affairs and Graduate Education; Sangeeta Schroeder, MD, assistant professor of Pediatrics in the Division of Hospital-Based Medicine and associate medical director of the Center for Excellence at Ann & Robert H. Lurie Children's Hospital of Chicago; and Cynthia Barnard, '16 PhD, '82 MBA, assistant professor of Medicine in the Division of General Internal Medicine and Geriatrics and vice president of Quality for Northwestern Memorial HealthCare, each spoke of the efforts at each organization to implement quality and safety measures.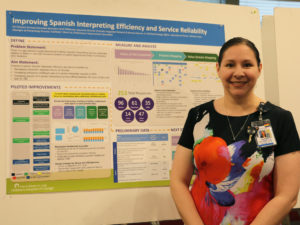 Chisholm explained how the 1999 National Academy of Medicine (formerly the Institute of Medicine) report "To Err Is Human" brought to the forefront many of the issues that lead to medical errors and the culture that fostered covering up mistakes, rather than seeking ways to overcome them. The discussions that resulted about these problems led to the creation of curriculum that was eventually evolved into the current HQPS programs.
"Healthcare should be safe, effective, provided to all who need it and equitable," Chisholm said. "How better to implement this than to create a training program to create the leaders of tomorrow?"
Among the programs' ten cohorts, 84.1 percent of students increased their leadership position or started in a quality/safety leadership role. Mariam Eldeib, MSW, a social worker in the program, became the quality improvement director at her organization and credits HQPS for getting her that role. Jennifer Lavin, MD, '14 GME, assistant professor of Otolaryngology, became interested in the field during her fellowship and became involved in — and then in charge of — quality for her division. She decided to join HQPS to enhance and improve her skills.
All of the speakers called on those gathered to involve patients in quality control and to establish accountability systems as part of educating future generations.
"Measurement alone doesn't create change. We need to create change — and change is hard. Quality is the centerpiece of strategy, not a component of strategy," Barnard said.