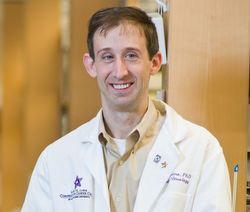 A team of scientists has demonstrated the mechanism by which ETO2-GLIS2, a gene fusion, promotes the development of an aggressive form of pediatric leukemia. The findings, published in Cancer Cell, also reveal an opportunity for the development of therapeutics.
The study was co-authored by John Crispino, PhD, the Robert I. Lurie, MD, and Lora S. Lurie Professor of Medicine in the Division of Hematology and Oncology.
Acute megakaryoblastic leukemia (AMKL), a rare type of blood cancer predominantly found in children, has two major pediatric subgroups: AMKL in patients with Down syndrome and those without. While the disease in those with Down syndrome (DS) is relatively well-defined and carries a good prognosis, non-DS AMKL is much less well-understood.
Recently, scientists discovered that a gene fusion called ETO2-GLIS2 — produced by an inversion on chromosome 16 — is present in 20 to 30 percent of cases of non-DS AMKL, and is associated with a very poor patient prognosis. But up until now, it was unclear exactly how this gene fusion blocks normal cell differentiation, a hallmark of leukemia.
In the current study, the scientists illustrated how ETO2-GLIS2 induces an irregular transcription network that underlies AMKL. They further demonstrated that expression of a peptide that inhibits ETO2-GLIS2 oligomerization could release the differentiation block — insights which could inform the development of novel therapeutics.
"Acute megakaryoblastic leukemia is a devastating blood cancer that requires new targeted and efficacious therapies," Crispino said. "The discovery of the mechanism by which ETO2-GLIS2 fusion promotes leukemia provides important new insights into ways to target these malignant cells."
Crispino is also a professor of Biochemistry and Molecular Genetics and a member of the Robert H. Lurie Comprehensive Cancer Center of Northwestern University.
Pediatric research at the Ann & Robert H. Lurie Children's Hospital of Chicago is conducted through the Stanley Manne Children's Research Institute.
The research, led by scientists at the French National Institute of Health and Medical Research (INSERM), was supported by the Institut National Du Cancer, Fédération Enfants et Santé and Société Française de lutte contre les Cancers et les Leucémies de l'Enfant et l'Adolescent, Association Laurette Fugain, a José Carreras EHA award, Fondation ARC, Fondation Gustave Roussy, SIRIC-SOCRATE, Fondation pour la Recherche Médicale, Cancéropôle Ile de France, INCa-PlanCancer "Soutien pour la formation" 2009–2013, Fondation de France, Lady Tata Foundation, and Gustave Roussy Genomic Core Facility.