View a photo essay of Alumni Weekend 2017 events.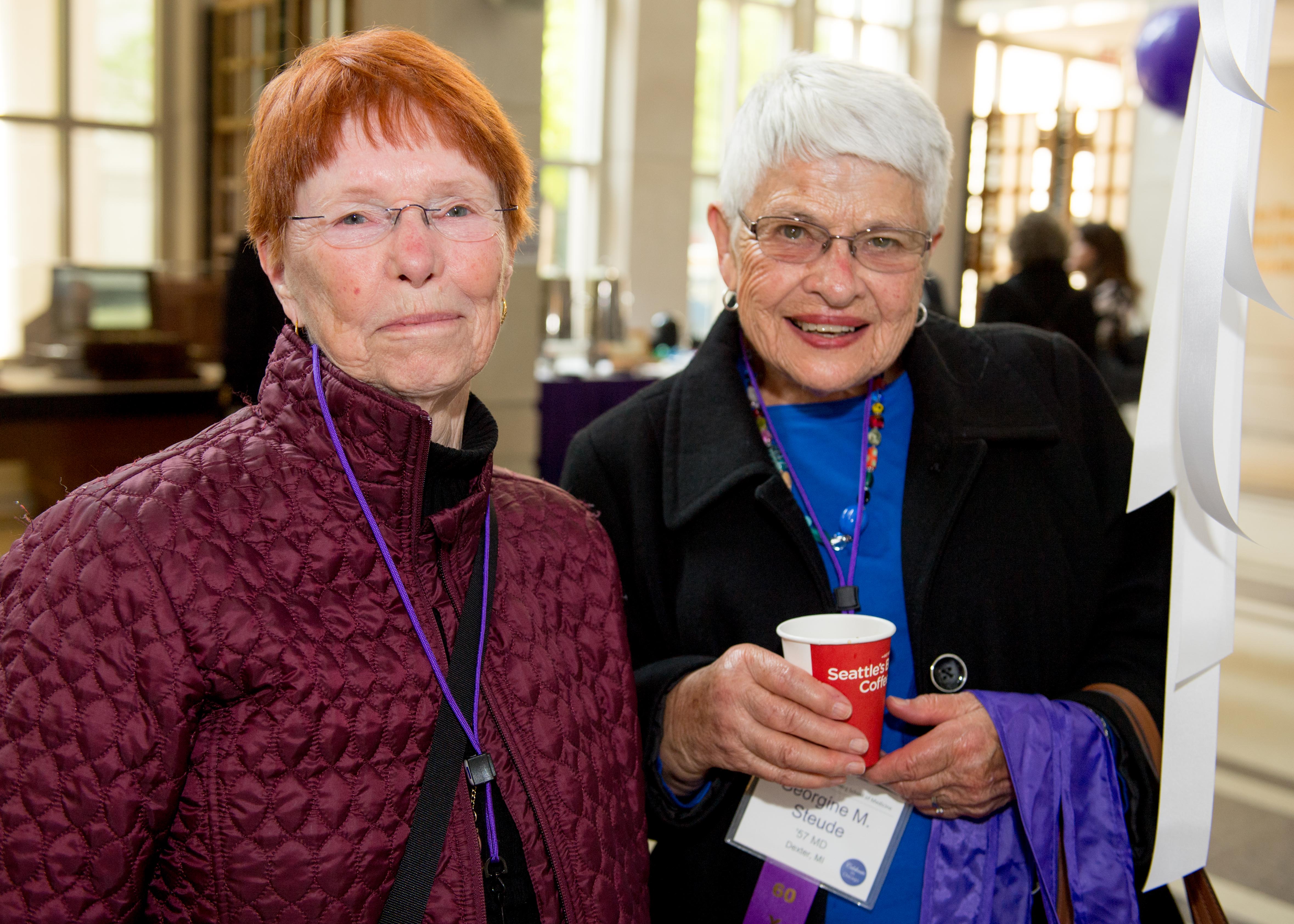 When Frances Taylor, '57 MD, and Georgine Steude, '57 MD, first met as roommates in Abbott Hall, they were two of just four women in their medical school class. Since then, much has changed around the Feinberg campus. But the friendship between the two physicians — as well as their fond appreciation for their time in medical school — has stayed the course for more than 60 years.
"It's good to come back and see old classmates," said Taylor, a medical epidemiologist in San Francisco. "There was a lot of prejudice against women in medicine at that time, but we were unaware of it here."
Steude, who retired from a career in anesthesiology at the University of Michigan, agreed. "The professors and our classmates were all very accepting," Steude said. "We were treated very well and all of us really enjoyed our four years here."
Taylor and Steude joined more than 450 fellow alumni and guests in attending this year's Alumni Weekend, held April 28 and 29. The annual celebration offers graduates a chance to reconnect with former classmates, reminisce about their time at Northwestern and discover how the medical school has evolved since they were last on campus.
The weekend featured a range of social and educational activities, including campus and hospital tours and faculty-led forums on topics from transplantation to cardiovascular health. Alumni also caught up with old friends over yoga classes, visits to the Museum of Contemporary Art and reunion class dinners, as well as chatted with current students during networking lunches.
As he perused class photos in Method Atrium, Walter Huurman, '62 MD, reminisced about the ways the medical school campus has changed over the years. "Walking down Superior is very different today than it was 55 years ago," said Huurman, a retired pediatric orthopaedic surgeon living in Florida. "I enjoy coming back to update myself on others I met while I was here and keep track of all that has developed."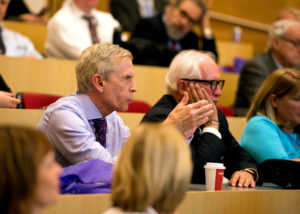 On Friday afternoon, after welcoming alumni back to campus, Eric G. Neilson, MD, vice president for Medical Affairs and Lewis Landsberg Dean, delivered an update on the state of the school and discussed the future of Feinberg.
In particular, Neilson highlighted the medical school's growing research enterprise, including rising rankings in NIH funding, continued recruitment of top investigators and construction of the Simpson Querrey Biomedical Research Center.
"I believe we can be optimistic in all of the endeavors that we take on in medicine. For me, this is why discovery is so important: it energizes the environment, and we hope it will continue to grow," Neilson said. "We want to be a premier medical center in this country. We think we are already — but we are well on our way to being even better than we thought."
Afterward, more than 75 attendees gathered at the inaugural Women in Medicine Tea at the Drake Hotel. A panel discussion, moderated by Diane B. Wayne, '91 MD, vice dean for Education, included Sandra Sanguino, '93 MD, '96 '99 GME, MPH, associate dean for Student Affairs; Patricia Garcia, MD, MPH, '91 GME professor of Obstetrics and Gynecology and of Medical Education; and Ranya Sweis, MD, '10 GME, assistant professor of Medicine in the Division of Cardiology.
The conversation continued after the panel with an open mic session, where alumni offered advice to current medical students in the audience and spoke about career successes, managing work-life balance and forging their own paths in medicine.
Jeanette Haslett, '07 MD, who was back on campus for her 10-year reunion, attended the tea on Friday. "I thought it would be good to come back and see my friends, and I'm so glad I did," said Haslett, an emergency medicine physician in New York City. "It's really impressive to see all the new advances that Northwestern has made. I'm just in awe: there's been so much development of the university to really make it a premier institution."
The celebrations continued across the two-day event. On Friday evening, alumni gathered for cocktails, dinner and dancing, and a special salute to members of the class of 1967, in recognition of their 50-year reunion. The gathering also featured the presentation of the Distinguished Alumni Award, and a talk from the winner, Diane Meier, '77 MD, director of the Center to Advance Palliative Care.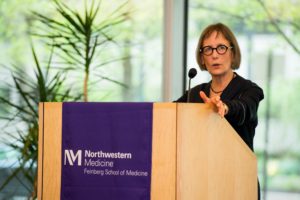 "I am deeply moved by this incredible honor," Meier said. "The training I got here was superb and I learned that when I became an intern and actually had a good sense of what I was doing as a resident in internal medicine."
Meier also discussed her career integrating palliative care into mainstream medicine. "Today, 100 percent of the top 20 NIH-funded medical centers have strong palliative medicine programs," Meier said. "I feel privileged to be part of a movement that restores to medicine some of its originating impulses, which is to care for the human being in front of us — not just their different disease parts."
The Friday evening ceremony was hosted by Bruce Scharschmidt, '70 MD, past president of the Medical Alumni Board, who attended with his wife, Peggy Crawford, '73 MD.
"It was a wonderful education, really a totally formative period of my life. I came from a lower middle-class family and I couldn't have afforded to go to medical school if it wasn't for the HPME program — two years' less tuition really made all the difference," said Scharschmidt, who served as chief of gastroenterology at the University of California, San Francisco, before entering the biotechnology industry. "At the time, we all knew it was a pretty remarkable place — it just wasn't truly appreciated until later days."