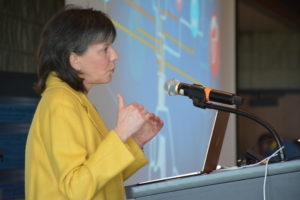 Northwestern's 4th Annual Computational Research Day brought together more than 350 faculty members and students to showcase innovative research projects, share recent insights and tools, and strengthen the computational research community throughout the university.
The event, co-sponsored by Feinberg and hosted by Northwestern Information Technology on the Evanston campus, featured presentations, a poster competition, workshops, software demos and group discussions, all centered on leveraging computational methods to answer complex research questions.
Rex Chisholm, PhD, vice dean of Scientific Affairs and Graduate Education, kicked off the conference with an opening address discussing the Northwestern Medicine Enterprise Data Warehouse, which currently holds more than 40 terabytes of clinical and research data.
"We are in a completely different world today, where instead of paper records, everybody's health is now captured in an electronic record," said Chisholm, also the Adam and Richard T. Lind Professor of Medical Genetics. "The ability to put that data together in a single place and start to think about big data approaches to identifying patterns in that collection of data is a major game-changer."
Chisholm also spoke about the opportunity for merging such health information with data from the NUgene Project, a genomic biobank sponsored by the Center for Genetic Medicine, which has so far sequenced the genomes of more than 1,000 participants. "What we really want to do is combine that 100 terabytes of human sequence data with that 40 terabytes of phenotypic data and do an all-by-all comparison," Chisholm said. "It's a classic example of a big data opportunity. And it's certain that this approach — once we figure out how to do it — is going to completely revolutionize how we think about disease: how we think about treatment of disease, how we diagnose disease, and how we actually help people prevent disease."
Elizabeth McNally, MD, PhD, director of the Center for Genetic Medicine, delivered a keynote address on human genome sequencing and echoed the opportunities offered by computational research. "This really is an area where there has been a lot of need for big data analysis — and it's definitely not shrinking anytime soon," said McNally, also the Elizabeth J. Ward Professor of Genetic Medicine.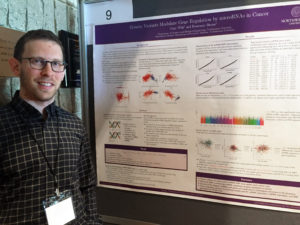 In addition to biomedical research, the conference also highlighted the use of computing in a wide range of other disciplines, from economics and engineering to applied physics and the social sciences. A guest keynote address was delivered by Desmond Patton, PhD, MSW, assistant professor at the Columbia University School of Social Work, who presented on his research into innovating gang violence prevention through qualitative analysis and natural language processing of social media data.
During the speaker sessions, Paul Reyfman, MD, a fellow in pulmonary and critical care, shared his research using transcriptomics to investigate lung diseases.
Gary Wilk, a PhD student in the laboratory of Rosemary Braun, PhD, MPH, assistant professor of Preventive Medicine in the Division of Biostatistics, presented his research, "Genetic Variants Modulate Gene Regulation by microRNAs in Cancer," at the event's poster session.
"We came up with a novel approach using computational methods to integrate many different molecular cancer datasets from large cancer cohorts, and we applied them to find these results," Wilk said.
At the poster session award ceremony, Yoonjung Yoonie Joo, a Health and Biomedical Informatics PhD student in the Driskill Graduate Program (DGP), received second-place for "Phenome-wide Association Studies of Polycystic Ovary Syndrome (PCOS)," her research with principal investigator M. Geoffrey Hayes, PhD, associate professor of Medicine in the Division of Endocrinology.
"Our project identified several significant phenotypic associations with PCOS risk alleles, including diabetes and its comorbidities," Joo said. "We suggested novel etiologic pathways underlying PCOS susceptibility loci, enabling biomedical scientists to potentially discover new therapeutic targets for PCOS treatment in the future."
The first-place prize was awarded to Shannon Brady, in the Weinberg College of Arts and Sciences, with third-place going to Jamilah Silver, in the School of Education and Social Policy.