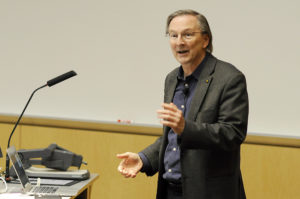 Jack Szostak, PhD, Nobel Laureate and professor of Genetics at Harvard Medical School, spoke on the chemistry of nonezymatic RNA replication – important in understanding origins of life on earth – at Northwestern's Chicago campus as part of the two-part SQI Distinguished Lecture series on March 29.
"I am delighted to host Szostak. He has had a spectacular career and has made enormous contributions to genetics," said Samuel Stupp, PhD, Director of the Louis A. Simpson and Kimberly K. Querrey Institute for BioNanotechnology (SQI).
Szostak guided the audience through his current research, a journey to piece together the origins of life and better understand Darwin's theory of biological evolution. He described the chemical experiments his lab has conducted and the models they've developed to uncover the mechanisms that enable non-enzymatic RNA replication. The potential for RNA to self-replicate has made it a good candidate for an early stage of the development of life.
"It's kind of like a jigsaw puzzle, seeing where the pieces fit in. Along with some other experiments we are working on, maybe this is really telling us something about how nonezymatic polymerization actually worked on the early earth," Szostak said. "The hope is to copy long enough pieces of RNA to bootstrap the process of Darwinian evolution and hopefully in a few years, build cells that will start to evolve."
After the lecture, attendees had a chance to continue the discussion at a reception.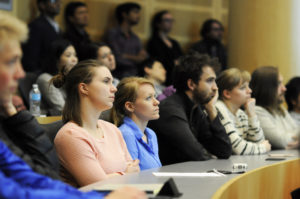 "It was interesting how he connected chemistry to something as broad as the origins of life," said Mark Karver, PhD, Director of SQI's Peptide Synthesis Core. "It was also interesting to hear how it took some effort to get his results, which were against the original thought of the leaders in field."
Kevin Metcalf, PhD, postdoctoral student in the lab of Milan Mrksich, PhD, professor of Cell and Molecular Biology and of Engineering, said, "It's an important question, how it all began. It was a nice approach to think about the creation of biological systems from a chemical perspective."
The second part of Szostak's lecture explored designing protocells, or aggregates of lipids, which have been proposed as a stepping-stone to the origin of life, and was held on Northwestern's Evanston campus on March 30.
Szostak received the Nobel Prize in Physiology or Medicine in 2009 jointly with Elizabeth Blackburn and Carol Greider for the discovery of the process by which chromosomes are protected by telomeres and the enzyme telomerase. He is also a Professor of Chemistry and Chemical Biology at Harvard University, the Alexander Rich Distinguished Investigator at Massachusetts General Hospital and an Investigator of the Howard Hughes Medical Institute.