Chicago industrialist makes gift to Simpson Querrey Biomedical Research Center
Chicago industrialist John Potocsnak has made a $15 million gift to Northwestern University Feinberg School of Medicine in support of the Louis A. Simpson and Kimberly K. Querrey Biomedical Research Center.
This gift brings the total contributions to the We Will. The Campaign for Northwestern Medicine to $1.5 billion in donations. The goal of the entire campaign for Northwestern Medicine is $1.75 billion.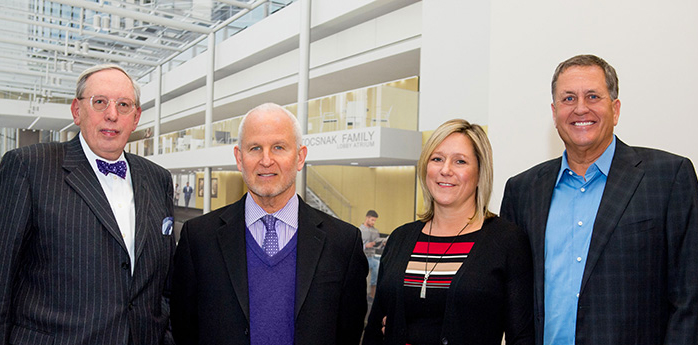 The donation names the new building's lobby atrium the Potocsnak Family Lobby Atrium and a floor of research labs.
"This generous gift from the Potocsnak family will help accelerate our pace of discovery, heighten the collaborative nature of leading-edge research conducted at Northwestern and develop the next generation of physician-scientists," said Eric G. Neilson, MD, vice president for medical affairs and the Lewis Landsberg Dean at Feinberg. "John and Laura have been exceptional philanthropists for many years, and we are extraordinarily grateful for their unwavering support of our mission to transform human health."
The Potocsnak Family Lobby Atrium is a highly visible first-floor space that will welcome the campus community and visitors to the Simpson Querrey Biomedical Research Center and serve as a site for numerous events, poster sessions and other professional gatherings. The lobby also will extend and expand the food court commons that is currently available to students, faculty and visitors to the Robert H. Lurie Medical Research Center.
Additionally, each research floor of the Simpson Querrey Biomedical Research Center will have more than 40,000 square feet and 138 research benches for Northwestern scientists. Floors will house senior principal investigators, technicians, laboratory assistants, postdoctoral students and research faculty.
Potocsnak, the chief executive officer of Corrugated Supplies Co., and his wife, Laura, have been Northwestern donors for more than a decade. They established the Potocsnak Family C.S.C. Professorship, which is held by Frank Palella, MD, '90 '92 GME, professor of Medicine in the Division of Infectious Diseases.
"It's important for my family and me to meaningfully support Chicago institutions like Northwestern that are not only making an impact locally, but also at national and international levels," Potocsnak said. "I am proud to support Northwestern, and hope that the research taking place here at Feinberg will make a real difference in people's lives and ultimately lead to cures."
When complete, the Simpson Querrey Biomedical Research Center at Feinberg will provide new space for biomedical scientists working in cancer, heart disease, neurodegenerative disorders and genetics. It will help draw the most talented research faculty, doctoral students and postdoctoral fellows, and will provide new research opportunities for medical students, residents and clinical fellows on both the Evanston and Chicago campuses.
Together with patients, physicians and scientists, students, trainees, alumni, employees and many friends, Northwestern Medicine has an unprecedented opportunity to transform healthcare and to stand among the world's top academic medical centers.
The "We Will" Campaign for Northwestern Medicine was launched to inspire and to provide crucial resources that will propel innovation and excellence across the academic medical center. Through the campaign, Northwestern University Feinberg School of Medicine and Northwestern Memorial Foundation are working together to raise $1.75 billion to provide crucial resources. All funds raised will count toward Northwestern University's overall campaign goal of $3.75 billion.