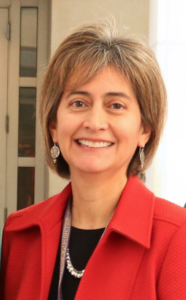 Sandra Sanguino, '93 MD, '96 '99 GME, MPH, associate dean for Student Affairs, has received the Exceptional Mentor Award from the American Medical Women's Association (AMWA).
The award recognizes physicians who have made significant contributions to the professional and personal development of medical students.
"One of the things I enjoy most about my job is helping students achieve their potential and find their path during medical school," said Sanguino, also an associate professor of Pediatrics and of Medical Education.
The AMWA is a national organization dedicated to advancing women in medicine and improving women's health. The award will be presented during the AMWA's 102nd annual meeting in San Francisco on April 1.
"We have a robust mentorship program here at Feinberg, and all of us in the Dean's Office serve as mentors," Sanguino said. "I've had wonderful mentors in my own career who have helped guide me, and I hope to be able to do that for our students as well."