Colleagues, students and friends recently gathered to celebrate the career of Paula Stern, PhD, professor emeritus of Pharmacology. Having spent more than 51 years at Northwestern, Stern is one of the longest-serving faculty members in the history of the school. Stern is recognized as an authority on bone and mineral health research, and a respected leader and educator.
Stern began her career at Northwestern in 1966 as an assistant professor in the Department of Pharmacology, where she began working on her first NIH grant-funded project looking at the effects hormones have on bone reabsorption. The NIH funded that grant for more than 35 years. In 1977, she was promoted to full professor and continued to make strides in research on the biology of bone, including developing the first bioassay for an active metabolite of vitamin D, which was applied in clinical studies. In her most recent work, Stern has elucidated signaling pathways for parathyroid hormone on bone, demonstrated sex differences in bone cell responses and examined effects of anticancer drugs on bone.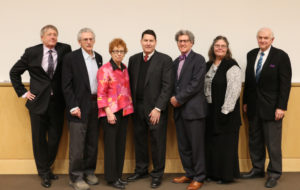 "Many of us look at our CVs and consider our list of publications and our grant portfolio as our biggest accomplishment, but really our legacy in this business is who you influence and who we train and how we are remembered," said Alfred George, Jr., MD, chair of Pharmacology. "I think in that regard, Paula has made a tremendous mark on Northwestern and on the field of bone research."
During the event celebrating Stern's retirement, more than 15 former students, trainees, colleagues and collaborators shared memories of working with Stern. Several reminisced about memories from Stern's lab, from holiday parties to weekly lunches and her well-known Halloween parties. Almost everyone who spoke remarked on Stern's passion and enthusiasm for her work and her ability to share that with her students and colleagues in ways that often reached far beyond the lab and classroom.
"In nearly 30 years of professional and personal friendship with Paula, I have come to understand the meaning of scholarship, mentorship, ethical values and fairness at a level unparalleled," said Craig Langman, MD, professor of Pediatrics in the Division of Kidney Diseases.
In additional to her contributions in and outside the classroom, Stern is also a champion for women in science. She was one of the founding members of Feinberg's Women's Faculty Organization (WFO) and was the first female president of the American Society for Bone and Mineral Research (ASBMR). She has been presented with the Distinguished Women in Medicine and Science Award presented by the WFO. The ASBMR also presents the Paula Stern Achievement Award each year to a woman recognized for her significant scientific achievements in bone research and has promoted the professional development and advancement of women in the field.
"Paula was a lone voice in the crowd as far as mentoring female students. We were totally devoid of mentors for young women in science and she was the pioneer for all of the mentorship opportunities we have now," said Gene Silinsky, PhD, professor of Pharmacology.
Beginning in 2017, Stern will have another award in her name, to be presented by the WFO. The award will recognize an outstanding female faculty member who demonstrates excellent research, mentorship and leadership.
Stern has been honored with the Louis V. Avioli Foundation Award from ASBMR for her contributions to basic science bone research, as well as Feinberg's George H. Joost Outstanding Teaching Award and the Dean's Award for Teaching Excellence. In 2013 Stern was invited by the National Osteoporosis Foundation to deliver the Lawrence G. Raisz MD Memorial Lecture Award. Stern said the lecture is personally significant to her because Raisz was her mentor and first introduction into bone research.
Although she is retiring, Stern is undertaking a project to document the history of the department of Pharmacology.
"I feel that I have been in the department so long that I am the person who could document its history. We often come into a place and think it has always been the way it is, but it's an evolution and I think it's important to tell that story. I think it is going to be an exciting project and I am hoping that it can be an ongoing enterprise for the department," Stern said.
Stern and her husband, Robert, plan to trade in their North Side home for a new home in Bellingham, Washington. There, she plans to spend more time on her other passion, music.