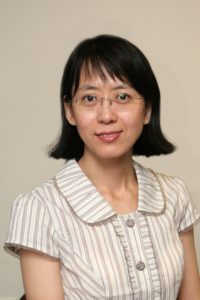 A recent clinical trial published in Lancet Oncology assessed the safety and efficacy of the drug ibrutinib in patients with Waldenstrom's macroglobulinemia, a type of non-Hodgkin lymphoma.
Co-author Shuo Ma, MD, '00 PhD, '08 GME, associate professor of Medicine in the Division of Hematology/Oncology, and the other study authors suggest that this chemotherapy-free approach may be a treatment choice for patients who don't respond to established drugs such as rituximab, the most common treatment to this type of lymphoma.
"This study provided evidence that single-agent ibrutinib is a highly effective and well-tolerated treatment in patients with rituximab-refractory Waldenstrom's macroglobulinemia," said Ma, also a member of the Robert H. Lurie Comprehensive Cancer Center. "Rituximab-refractoriness is considered highly unfavorable and historically associated with a poor outcome. Ibrutinib treatment appears to be able to overcome this and other traditionally adverse prognostic features by producing a sustained response and clinically meaningful improvement in quality of life."
This trial is the first study to describe a positive risk-benefit ratio using ibrutinib alone in patients who have not responded to other treatments. This clinical trial is also one of the first to collect patient-reported outcomes over the course of the study, assessing the patient's perspective on the overall benefit of the treatment.
Between August 2014 and February 2015, 31 adult patients were enrolled in this multicenter, phase III, open-label substudy with the median age of 67 and the median number of prior therapies of 4; 42 percent of patients had disease considered to be high-risk. To enroll, patients must have either experienced a relapse less than 12 months since their last treatment or failure to show a minor response to previous treatments. The study was conducted at 19 sites in seven countries, including at Northwestern Memorial Hospital.
The study objectives included overall response rate, progression-free survival, overall survival, hematological improvement, time to next treatment and patient-reported outcomes.
Patients received ibrutinib orally, once daily until progression or signs of unacceptable toxicity. According to the study, at 18-month follow-up, 90 percent of patients experienced a response to treatment with a progression-free survival rate of 86 percent and overall survival rate of 97 percent.
Adverse events included neutropenia, an abnormally low count of a type of white blood cell, high blood pressure, and anemia, deficiency in platelets, and diarrhea. Serious adverse events occurred in ten patients and were most often infections. While five patients discontinued the ibrutinib treatment, the other patients are continuing on the drug and follow-up evaluation is ongoing.
This study is part of the iNNOVATE study, an ongoing randomized, placebo-controlled trial of ibrutinib plus rituximab compared with rituximab plus placebo in patients with Waldenstrom's macroglobulinemia.
The study was funded by Pharmacyclics LLC, an AbbVie Company, which manufactures ibrutinib.
Ma received honoraria from, has had a consultancy and advisory role with, and is on the speaker's bureau for: Pharmacyclics, Janssen, Gilead, and Genentech and research funding from Novartis, Xeme, Pharmacyclics, Gilead, AbbVie and Celgene.