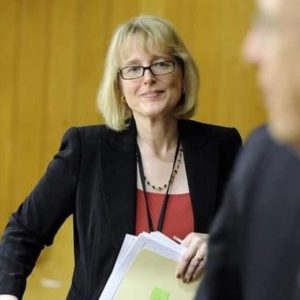 Lori Post, PhD, has been appointed as the inaugural director of the Buehler Center for Health Policy and Economics and Buehler Professor of Geriatric Medicine in the Department of Emergency Medicine. She will join Northwestern in early 2017.
"I am thrilled to lead a multi-disciplinary policy center with reach throughout the university," said Post, currently the research section chief and associate professor in the Department of Emergency Medicine at Yale School of Medicine. "This post coincides with a marked change in my own research where I am moving from the individual to policy level interventions. Specifically, I will work at affecting policy with partners at USAID, the United Nations and the World Bank. I still will continue to develop screening tools and interventions for geriatric patients in the emergency department but with a stronger emphasis on policy implications."
Previously, Post has worked on issues of elderly populations and geriatric patients, including in the 19 lowest income countries in the world. As a Rockefeller Foundation Fellow Resident, she developed a line of theoretical and applied research that involved public and political will campaigns. She also addressed the UN delegates during the Human Rights session in 2015 and recently received funding for research on gender-based violence in low-income countries with a special focus on widows.
"I will deeply miss my colleagues and friends at Yale, but providing leadership at this level and catalyzing new research on a university-wide scale and across disciplines has been my life's goal. Northwestern has given such a warm reception that I will slide into my new job easily and hit the ground running when I move to Chicago," Post said.
The Buehler Center for Health Policy and Economics, to be housed within the Institute for Public Health and Medicine (IPHAM), will catalyze new research initiatives that leverage existing strengths and create new opportunities for research in health policy and economics. Also, the center will create collaborations and partnerships across multiple schools, departments, centers and institutes at Northwestern and with clinical partners.
"With the recruitment of Dr. Post, the Institute's policy work will have a new anchor point in the Buehler Center," said Ronald Ackermann, MD, MPH, senior associate dean for public health and director of IPHAM. "Dr. Post possesses tremendous vision, policy expertise and leadership experience, which will help IPHAM and Feinberg to contribute to the development and evaluation of health policies on a scale not previously possible."
"As the department strives to contribute to systems and policy solutions that address the clinical and social determinants of health for thousands of Chicago's highest-need patients, Dr. Post will be in a remarkable position to lead a portfolio of collaborative research that aligns with these efforts to amplify and extend IPHAM's impact across many important areas of population health," Ackermann said.