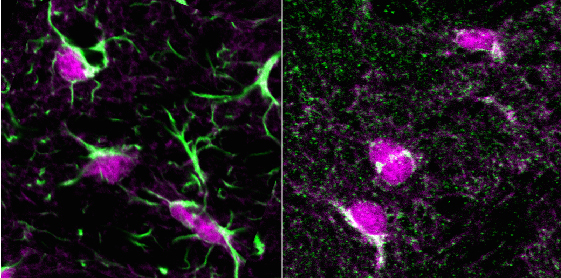 Northwestern Medicine scientists have demonstrated how astrocytes, a type of glial cell in the brain, may contribute to symptoms in Parkinson's disease.
The findings, published in Cell Reports, offer a new framework for the development of treatments in Parkinson's disease and related disorders.
Astrocytes, star-shaped glial cells found in the brain and spinal cord, are crucial in the maintenance of normal brain function and little has been known about their role in Parkinson's disease.
Savio Chan, PhD, assistant professor of Physiology, and his team used animal models of Parkinson's disease to show that astrocytes act as a brake on the motor suppression striatal pathway.
With the striatal pathway sometimes called the "no go" pathway in the brain, when astrocytes lose their ability to regulate the pathway an excessive amount of "no go" signals are produced by neurons. The scientists suggest this change in astrocytes may contribute to the hypokinetic symptoms of Parkinson's disease such as muscle rigidity, slowness or lack of movements.
"The striatal pathway is supposed to be hyperactive in Parkinson's disease, but there wasn't a lot of evidence supporting it," Chan said. "In this study, we found there is indeed overactivity of the pathway."
Chan and his collaborators used calcium imaging to observe the physiology of astrocytes in the external globus pallidus, a structure in the brain involved in the regulation of voluntary movement. They learned that those astrocytes' behavior is affected by dopamine, a neurotransmitter that is lost in Parkinson's disease.
By using other imaging technology, optogenetics and pharmacological approaches, the authors found that astrocytes act as a regulator and potential source of the neurotransmitter glutamate within the "no go" pathway. Glutamate is essential for normal brain function.
The scientists further used animal models of Parkinson's disease to learn that with a chronic loss of dopamine, the astrocytes lose the ability to regulate glutamate. This finding demonstrates that such a change can lead to the increased activity in the "no-go" pathway in Parkinson's disease.
"We found that in the models of Parkinson's disease, astrocytes are dysfunctional, and that dysfunction leads to the overactivity of the striatal pathway. We are not saying this is the only way the pathway is overactive, but it is a contributing factor. The involvement of astrocytes or glia in neurological disorders is likely prevalent," Chan said.
The authors propose that astrocytes could be a cellular target for relief of motor symptoms associated with Parkinson's disease.
In future studies, by using cutting-edge technologies, Chan plans to dig deeper to learn more about astrocytes and what role they play in the motor circuit.
The research was supported by National Institutes of Health grants AG020506, AG047782, AG020506, EB003320, NS072703, NS071081, NS069777 and NS047085; Michigan Institute for Clinical and Health Research grant 2UL1TR000433; Northwestern Memorial Foundation; a Bachmann-Strauss grant; and a Department of Defense contract W81XWH-13-1-0243.