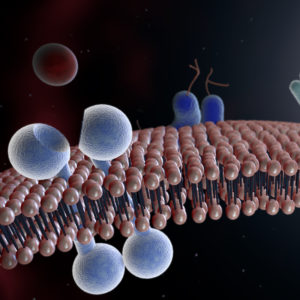 A new study published in the journal Cell provides insight into potential mechanisms for the activation of a mutated gene in autosomal dominant polycystic kidney disease (ADPKD), a life-threatening genetic disorder that afflicts more than 600,000 Americans and more than 12 million people worldwide.
The gene, named polycystic kidney disease 2 (PKD2), codes for a protein that is a part of a large ion channel and sits on the membrane of cells. A team of scientists, including co-author Paul DeCaen, PhD, assistant professor of Pharmacology, used a type of microscopy called single-particle electron cryo-microscopy combined with nanodisc technology to determine the structure of the PKD2 ion channel.
The structure described in the paper establishes the molecular basis for the majority of disease-causing mutations in PKD2-related ADPKD. They show how the extracellular domain (outside of the cell) of PKD2 — a hotspot for mutations — contributes to channel assembly and may serve as a location for extracellular stimuli to bind to and affect the function of the channel's gates, which monitor ion flow.
They further uncovered details of the channel's current and regulation of the flow of ions, or the permeation pathway, using electrophysiology methods.
"Although we know the PKD2 dysfunction leads to ADPKD, we don't know how to treat patients," DeCaen said. "This work provides a structural template for drug design, which is an exciting possibility since none currently exist."
Currently, there are no treatments for ADPKD; right now, treatment can only alleviate some symptoms of the disease. A better understanding of PKD2 structure and function could further the development of better treatments, according to the authors.
The study was supported by the National Institutes of Health NIDDK Pathway to Independence (PI) Award (K99/R00), Howard Hughes Medical Institute, and National Institutes of Health grant R01 DK110575-01A1.