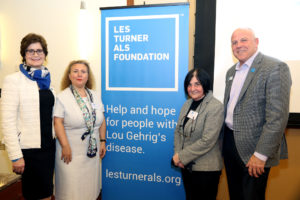 More than 175 scientists, physicians, patients and supporters gathered for the Les Turner Symposium on ALS and NeuroRepair on Monday, to share research updates, provide patient education and foster new scientific collaborations in hopes of developing future treatments for ALS.
ALS, or amyotrophic lateral sclerosis, is a progressive neurological disease that attacks upper and lower motor neuron cells, leading to paralysis of the voluntary muscles including those involved in speaking, swallowing and breathing, eventually leading to paralysis and death.
The sixth annual symposium, sponsored by the Les Turner ALS Research and Patient Center at Northwestern Medicine, featured a full day of events, including a keynote lecture, interactive poster session, an "Ask the Experts" clinical panel and research presentations by leading scientists in the field.
"At Northwestern, we have a rich body of scientists who, although they may be working on different aspects of the disease, are all working toward the same goal: to understand the cellular and molecular mechanisms of why motor neurons degenerate and how we can build effective treatment strategies," said Hande Ozdinler, PhD, assistant professor of Neurology and an organizer of the event.
The event's keynote speech was delivered by Terry Heiman-Patterson, MD, professor and vice chair of Neurology and medical director of the MDA/ALS Clinic at Drexel University, and co-founder of the ALS Hope Foundation. Her address, "Clinical and Research Update in ALS," touched on current challenges in ALS research, including a lack of biomarkers, the disease's heterogeneity, and difficulties with enrollment and retention in clinical trials.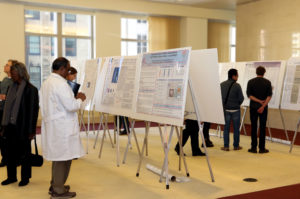 But she also emphasized areas of promise, such as ongoing genetic research. "Over the last five years, the number of identified genes has exploded — including genes identified at Northwestern and studied here," Heiman-Patterson said. "Northwestern has a place in the history of ALS that you can be proud of — because strategies that work in familial ALS may be more widely applicable and help us get to stopping all ALS."
A Partnership Devoted to Driving Breakthroughs in ALS
The Les Turner ALS Foundation, through a partnership that spans more than 35 years, has funded over $50 million in ALS research and clinical care at Northwestern. That includes the establishment of the Les Turner ALS Research and Patient Center at Northwestern Medicine in 2014, which brought together the Lois Insolia ALS Clinic and the three ALS research laboratories at Feinberg under one umbrella.
"We come to this with a long legacy and a very deep history with Northwestern," said Andrea Pauls Backman, executive director of the foundation. "The Foundation has always provided the entire continuum of what is necessary to treat ALS and someday cure ALS, and I think this symposium gives a very good snapshot of that."
At this year's event, the three Les Turner laboratories devoted to ALS research — led by Ozdinler, Teepu Siddique, MD, professor of Neurology and Evangelos Kiskinis, PhD, assistant professor of Neurology — shared updates on their current research focuses.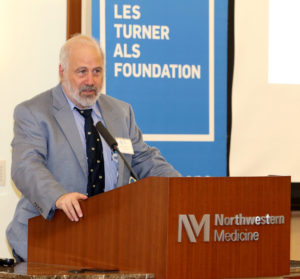 The symposium's Research Data Blitz Session also included talks by Richard Silverman, PhD, the John Evans Professor of Chemistry at the Weinberg College of Arts and Sciences; Robert Sufit, MD, professor of Neurology and director of the Lois Insolia ALS Clinic; Gerardo Morfini, PhD, associate professor of Anatomy and Cell Biology at the University of Illinois at Chicago; Katharina Quinlan, PhD, research assistant professor of Physiology; and Javier Jara, PhD, research assistant professor of Neurology.
"This is a tremendous event," said Jack Rozental, MD, PhD, chief of Comprehensive Neurology in the Department of Neurology and interim director of the Les Turner ALS Research and Patient Center. "It makes me optimistic to hear of the latest scientific advances, because I'm becoming more and more certain each year that we are closer to some kind of treatment for ALS — whether it's something that stops the disease or maintains it or even starts to reverse it. And when that treatment or drug is developed, I am certain it will come from Northwestern."
The symposium concluded with a panel of Northwestern Medicine physicians — including Sufit; Senda Ajroud-Driss, MD, associate professor of Neurology; John-Michael Li, MD, assistant professor of Neurology; and John Coleman III, MD, assistant professor of Medicine in the Division of Pulmonary and Critical Care — as well as Heiman-Patterson, who fielded questions from patients in the audience.