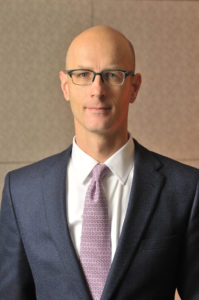 Using clinical and genomic databases, a team of scientists including a Northwestern Medicine investigator developed and validated the first molecular signature that can predict responses to radiotherapy for patients with prostate cancer, according to a recently published paper in Lancet Oncology.
"This work is an exciting step toward the integration of genomic data into the real life, decision-making process for our patients," said Edward Schaeffer, MD, PhD, chair of Urology. Schaeffer is also a member of the Robert H. Lurie Comprehensive Cancer Center of Northwestern University.
This 24-gene signature, called the Post-Operative Radiation Therapy Outcomes Score (PORTOS), may help physicians determine which patients will benefit most from postoperative radiation, and could in turn improve patient outcomes and spare unnecessary toxicity.
Through their analysis, the scientists showed that of patients who had radiotherapy, patients with high PORTOS had a lower incidence of distant metastasis (cancer that has spread from the primary tumor site) than that in patients with low scores. They also compared PORTOS to widely used genomic and clinical risk tools, none of which predicted response to postoperative radiotherapy.
The authors suggest future studies should focus on validation in additional cohorts, and with randomized controlled trials.
The study was funded by the Prostate Cancer Foundation, the Evans Foundation, the V Foundation for Cancer Research, the A. Alfred Taubman Medical Research Institute at the University of Michigan, GenomeDx Biosciences and a Patient-Centered Outcomes Research Institute (PCORI) Award.