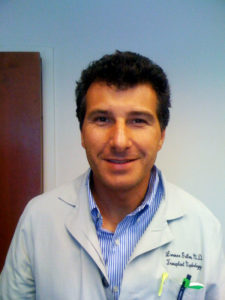 A Northwestern Medicine study published in The Lancet has identified a set of genes that could be used to predict whether a transplanted kidney is at risk of damage and subsequent loss.
Lorenzo Gallon, MD, professor of Medicine in the Division of Nephrology, co-authored the paper, which pinpointed 13 genes that correlate with the kidneys likely to develop fibrosis. This injury is part of chronic allograft damage, which is the major cause of organ loss in the first year after a transplant.
In the study, scientists collected biopsies from kidneys three and 12 months after they were transplanted. Using DNA microarray analysis on the tissue samples, they then identified which genes expressed in the three-month samples correlated with biopsies that showed signs of fibrosis and damage at the 12-month mark.
Not only did the 13 genes accurately identify which kidneys went on to progress to fibrosis, they also predicated which ended in early organ loss.
Previously, physicians have had few tools to accurately predict such damage. Based on these findings, kidney transplant recipients who are determined to be at-risk because of the presence of the predictive gene set could receive additional early interventions. For example, targeted therapies could be used to slow or reverse fibrosis before the damage becomes irreparable. Those improvements could help preserve overall kidney function, and drive a larger improvement in long-term survival rates for kidney transplants, which haven't seen significant progress in recent decades.
The study was supported by grant 5U01AI070107-0 from the National Institutes of Health.