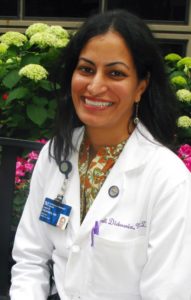 Aarati Didwania, MD, '04 MSCI, associate professor of Medicine, has been named director of the Honors Program in Medical Education (HPME) at Northwestern University Feinberg School of Medicine, effective September 1.
"I'm thrilled and excited to shepherd Northwestern's brightest and most motivated students," Didwania said. "These students have already set high goals for themselves in a career in medicine, and I'm thrilled to help guide them. I hope to set these students up for success in pursuing their diverse interests related to medicine and start fostering these interests from the beginning of their undergraduate careers."
HPME, established at Northwestern in 1961, admits students simultaneously to undergraduate study at Northwestern University in Evanston and to Feinberg in Chicago for medical school. HPME students participate in a flexible, individualized undergraduate program that may be completed in three or four years prior to matriculation to Feinberg.
Didwania joined Northwestern in 2000 as a clinical instructor and an attending physician at Northwestern Memorial Hospital. She has served many administrative appointments, including site director for the junior medicine clerkship and key clinical faculty and women's health track faculty coordinator in the Department of Medicine. Didwania has also participated on the Intern Selection Committee, the Student Promotions Committee and the Curriculum Renewal Committee. Didwania is a member of the Robert H. Lurie Comprehensive Cancer Center of Northwestern University and director of the Lurie Cancer Center's STAR (Survivors Taking Action and Responsibility) Program for adult survivors of pediatric cancer.
"I'm excited to be working with some of the greatest colleagues in medical school administration. Drs. Green and Wayne have been wonderful role models and I look forward to learning a lot from them moving forward," Didwania said.
Before starting at Northwestern, Didwania completed her medical degree at Johns Hopkins University School of Medicine and her residency in internal medicine at the University of Chicago Hospitals.
Marianne Green, MD, associate professor of Medicine in the Division of General Internal Medicine and Geriatrics and of Medical Education, has lead HPME since 2005. She will continue to support this program in her new role as senior associate dean for Medical Education.
"I have no doubt that Dr. Didwania will be an amazing asset to HPME and that with her leadership the program will flourish while continuing to be one of the premier BA/MD programs in the country," Green said.