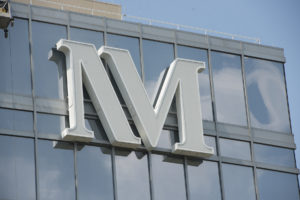 Four Northwestern Medicine hospitals have been recognized by U.S. News & World Report in its 2016-17 ranking of America's Best Hospitals.
Northwestern Memorial Hospital is once again recognized as one of the top hospitals in the country, ranking 8th on the prestigious Best Hospitals Honor Roll. Northwestern Memorial is also ranked 1st in both the Chicago Metro Region and Illinois for the fifth consecutive year. Northwestern Medicine Central DuPage Hospital is ranked 7th in both the Chicago Metro Region and Illinois. Northwestern Medicine Delnor Hospital and Northwestern Medicine Lake Forest Hospital are tied for 19th in the Chicago Metro Region and 27th in Illinois.
"With four of our hospitals and 13 clinical care specialties recognized by U.S. News, this is an achievement that further distinguishes Northwestern Medicine as Chicago's premier academic health system and reaffirms our commitment to providing world-class healthcare to our patients," said Dean M. Harrison, president and chief executive officer of Northwestern Memorial HealthCare. "This honor again demonstrates the shared commitment of our talented physicians, nurses and staff who provide innovative and high-quality compassionate care."
The Best Hospitals Honor Roll highlights the top 20 hospitals nationwide that deliver the highest quality of care across a range of specialties, procedures and conditions. Northwestern Memorial is nationally ranked in 13 out of 16 specialties and Central DuPage Hospital is ranked in one specialty. Northwestern Memorial has four specialties that received top 10 recognition: Cardiology & Heart Surgery (6th), Orthopaedics (6th), Geriatrics (9th) and Neurology & Neurosurgery (9th).
In addition to its top 10 programs, Northwestern Memorial was also nationally recognized in the following clinical specialties: Cancer (14th), Diabetes & Endocrinology (11th), Ear, Nose & Throat (44th), Gastroenterology & GI Surgery (16th), Gynecology (31st), Nephrology (14th), Pulmonology (17th), Rheumatology (15th) and Urology (11th).
Read the full details of Northwestern Medicine's 2015 rankings in America's Best Hospitals here.
RIC and Lurie Children's Rank on Top
Meanwhile, the Rehabilitation Institute of Chicago (RIC) has again been recognized as the national leader in physical medicine and rehabilitation, topping the U.S. News list for the 26th consecutive year. RIC is the only hospital of its kind to hold this distinction.
"RIC's pioneering spirit has come to define the field of physical medicine and rehabilitation, and it's an honor to once again earn the recognition of physicians and U.S. News & World Report," said Joanne C. Smith, M.D., RIC's president and CEO. "We continue our quest to be the global source of science-driven breakthroughs in human ability. We are investing heavily to offer our patients hope: the highest quality care integrated with scientific discovery and education, all to achieve the best possible outcomes."
Earlier this summer, U.S. News ranked Ann & Robert H. Lurie Children's Hospital of Chicago the top children's hospital in Illinois and the 6th best children's hospital in the country. Lurie Children's is also the only Illinois children's hospital named to the Honor Roll, which recognizes children's hospitals with exceptional performance in at least three specialties. Lurie Children's has five specialties in the top 10 which include Gastroenterology (4th), Neonatology (6th), Neurology/Neurosurgery (6th), Urology (7th) and Kidney Disease (10th).
Read the full details on ranking for RIC here and for Lurie Children's here.