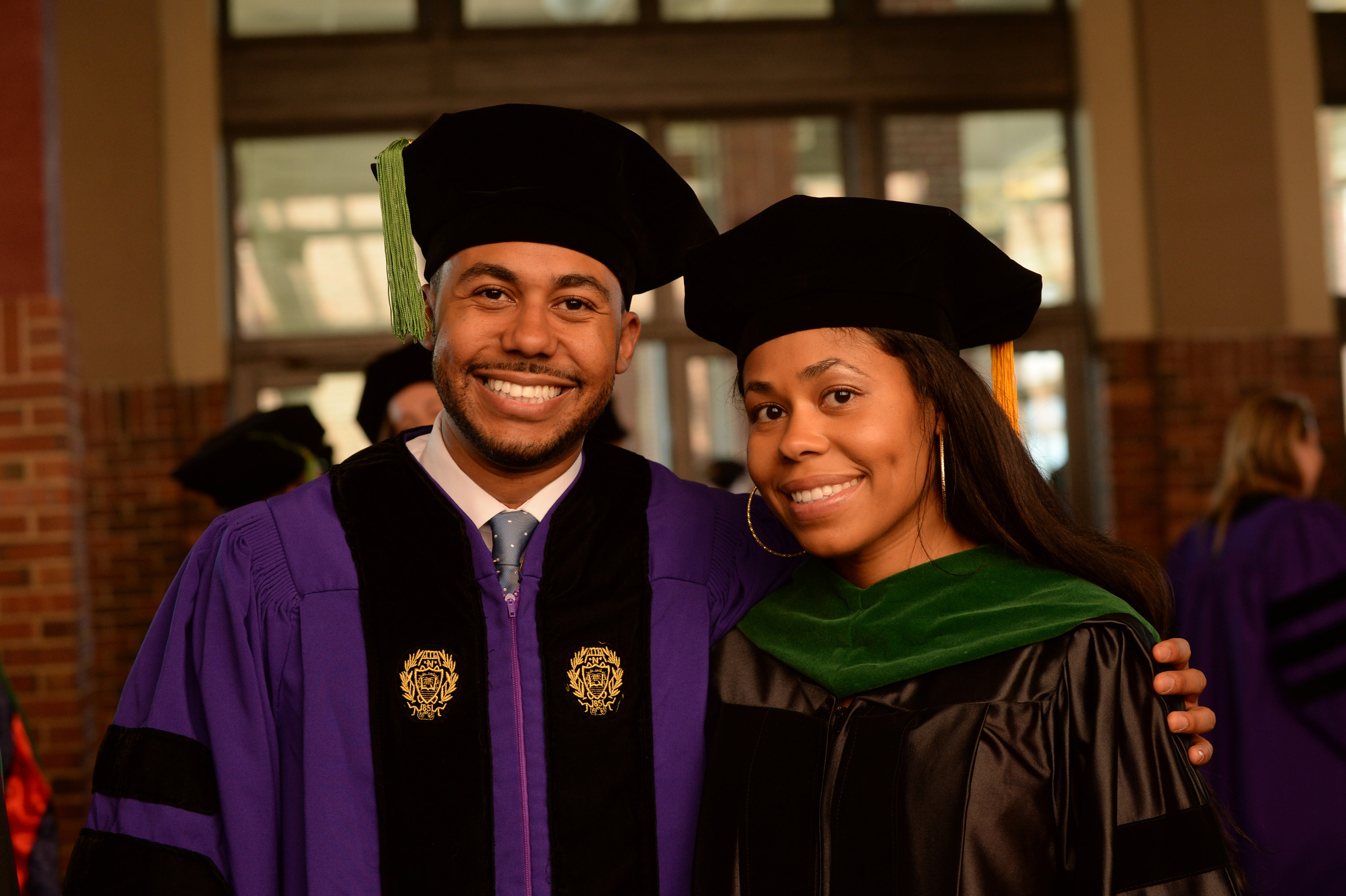 As Grant Senyei, '16 MD, '16 MBA, was putting on his regalia for medical school commencement on May 23, he said he was excited to see his peers graduate, and also for his father, Drew Senyei, '79 MD, to hood him during the ceremony at Chicago's Navy Pier Grand Ballroom.
"I feel a great sense of accomplishment, and I'm excited to see everyone graduate. The ceremony is a symbolic act to enter into the profession," Grant Senyei said.
He will begin his internal medicine residency at the University of California San Diego Medical Center, in San Diego, Calif.
At the start of the ceremony, the 157th in Feinberg's history, Eric G. Neilson, MD, vice president for Medical Affairs and Lewis Landsberg Dean, greeted guests and addressed students.
"This is your special day – you are the first class to finish our new revised curriculum, and you accomplished this with great distinction," Neilson said.
Daniel Linzer, PhD, provost of Northwestern University, shared his hopes for the Class of 2016 to participate in the formation of new knowledge, to remain open to learning from everyone and to share their knowledge with others.
"Research, learning and teaching. Those are the core activities of Northwestern University," Linzer said. "And my wish for you then, is to take those core activities – to take Northwestern – with you and continue to make them part of your approach to medicine in the years ahead."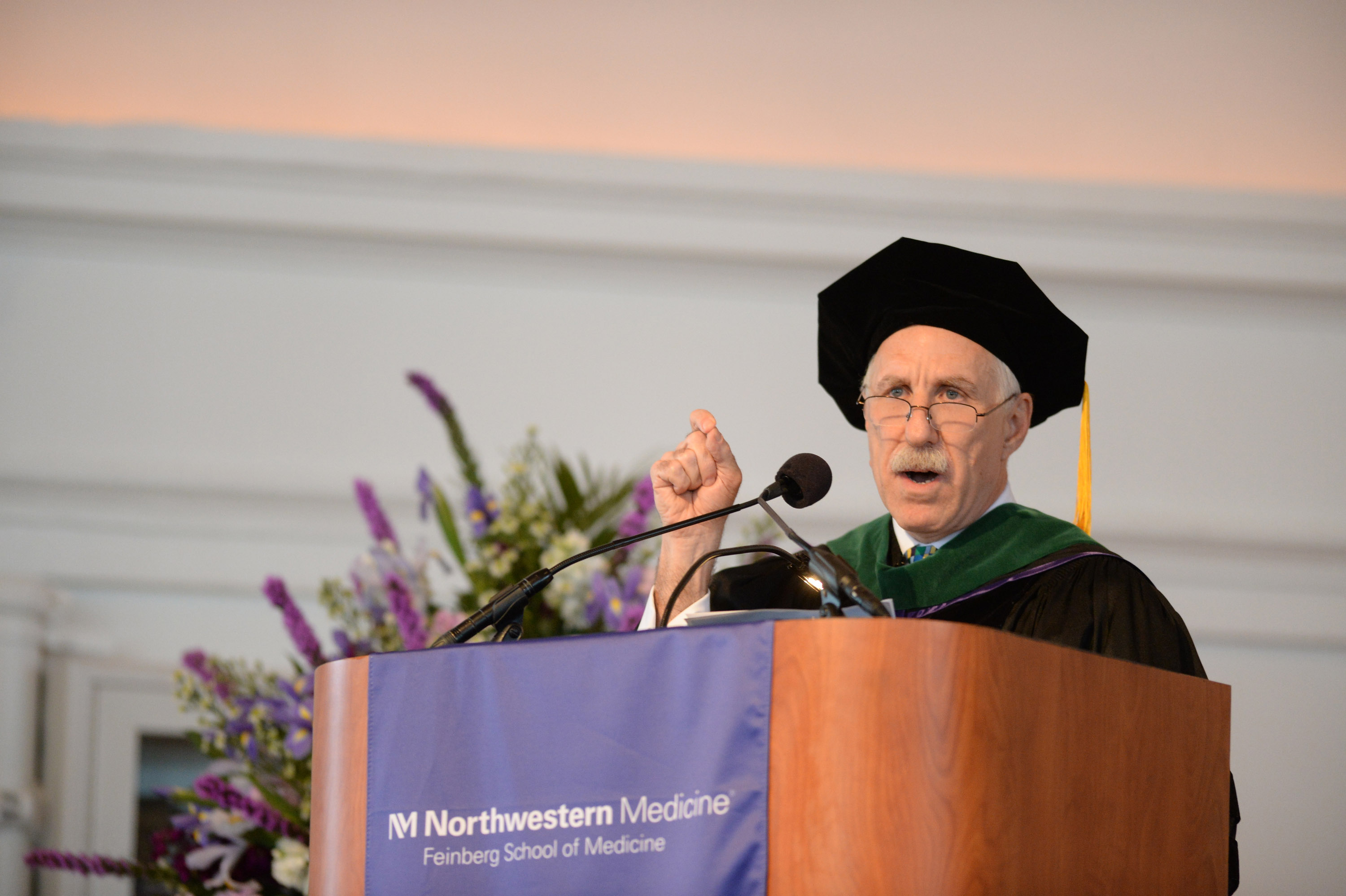 Commencement speaker Paul Rothman, MD, dean of medical faculty and vice president for Medicine at Johns Hopkins University and chief executive officer of Johns Hopkins Medicine, discussed the role of physicians in the community.
He encouraged graduates to harness the power of technology without undermining the doctor-patient relationship and emphasized the importance of addressing health inequities.
"I believe the medical community has the real opportunity to be leaders in helping to heal our cities, conquer inequality and create better opportunities for all. That work starts with the humanity and compassion in each of you," Rothman said.
John Thomas, Jr., PhD, senior associate dean for Medical Education, presented the members of the Class of 2016. As the graduates crossed the stage, they received their doctoral hood and diploma from their college mentor, a faculty mentor or a family member who is a physician.
Class speaker Patrick Hurley, '16 MD, urged his peers to reflect on how much they've accomplished over the past four years and to think about their future.
"We have Feinberg to thank for pushing us along this journey of passion and caring: We as a class have had access to scores of brilliant professors and dedicated administrators," Hurley said. "We arrived here in Chicago in 2012 as eager students with a lot to learn and we leave this auditorium today as caring, passionate, well-trained physicians.
As the commencement ceremony finished, the 147 graduates recited the Declaration of Geneva – the Physician's Creed, which is the same oath they took as first-year medical students.
"It's a huge honor to be here with the friends and mentors who supported me," said Ellen Ryan, '16 MD, who will begin her residency in pediatrics at Children's Hospital Oakland in Oakland, Calif. "The pediatric faculty at Northwestern really motivated me to put in my all, and the environment here allowed me to excel."
Twenty-five of this year's graduates were inducted into the Alpha Omega Alpha medical honor society. Seven graduates received Magna Cum Laude in Scientia Experimentali and six received Cum Laude in Scientia Experimentali. Nine graduates received Summa Cum Laude, six  received Magna Cum Laude and seven  received Cum Laude.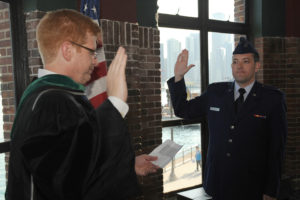 Students earning joint degrees included 13 with a Master's Degree in Public Health, two with a Master's Degree in Medical Humanities and Bioethics, one with a degree in business administration and 12 graduates who completed a PhD in the Medical Scientist Training Program.
For Daniel Reschke, '16 MD, the commencement ceremony also marked the beginning of his journey as a military physician. During a separate ceremony, Reschke was promoted to captain in the United States Air Force.
Reschke will begin his residency in emergency medicine at San Antonio Military Medical Center in San Antonio, Texas.
"It's surreal to become a doctor and captain in the same day," he said. "I am grateful for the family and friends that helped me along the way."