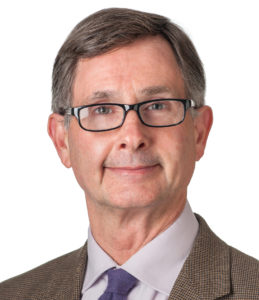 Nearly every scientific discovery is the product of a team of scientists working together. In a recent study published in Cancer Cell, Northwestern Medicine scientist C. David James, PhD, provided viable tissue samples with detailed molecular profiles to a team that uncovered new targets for treating glioblastoma, a fatal brain tumor for which there is currently no cure.
Previous research identified a core set of genetic mutations in glioblastoma tumors that can be targeted with drugs, but the cancer quickly develops resistance to these therapeutic attempts. The new study, led by scientists at the University of California, San Diego, (UCSD) and the California Institute of Technology (CalTech), explored the signaling networks that contribute to this resistance.
James, a professor of Neurological Surgery and Biochemistry and Molecular Genetics, propagates patient brain tumors in immunodeficient mice. Information from the molecular analysis of these "xenograft" tumors is used to test candidate therapies for treating patients with the same cancer.
"The UCSD and CalTech investigators used the patient-derived xenografts to study tumor adaptation to a commonly used signaling pathway inhibitor," he explained. "Tumors treated with the inhibitor were analyzed for adaptive changes that provide acquired resistance to treatment. The adaptive changes, in turn, revealed new points of therapeutic intervention."
The study's findings indicate that combination treatments that target the signaling pathway with multiple inhibitors, instead of just one, may be an effective approach to treating glioblastoma. The strategy has potential for use in treating other cancers, too.
"The results of this study, and similar studies, suggest that knowledge of tumor adaptive changes to initial therapy can be used to devise personalized combination therapies that will provide cancer patients prolonged relief from their disease," said James, who is a member of the Robert H. Lurie Comprehensive Cancer Center of Northwestern University. "Continued study of tumor evolution driven by anti-cancer therapy will allow clinicians to stay a step ahead of the cancer, and potentially render certain types of cancer as chronic disease."
This study was supported by the Ben and Catherine Ivy Foundation Fund, National Institutes of Health grants 5U54CA151819 and NS73831, the Phelps Family Foundation, the Defeat GBM Research Collaborative of National Brain Tumor Society, the National Foundation for Cancer Research and the European Commission grant PIOF-GA-2010-271819.