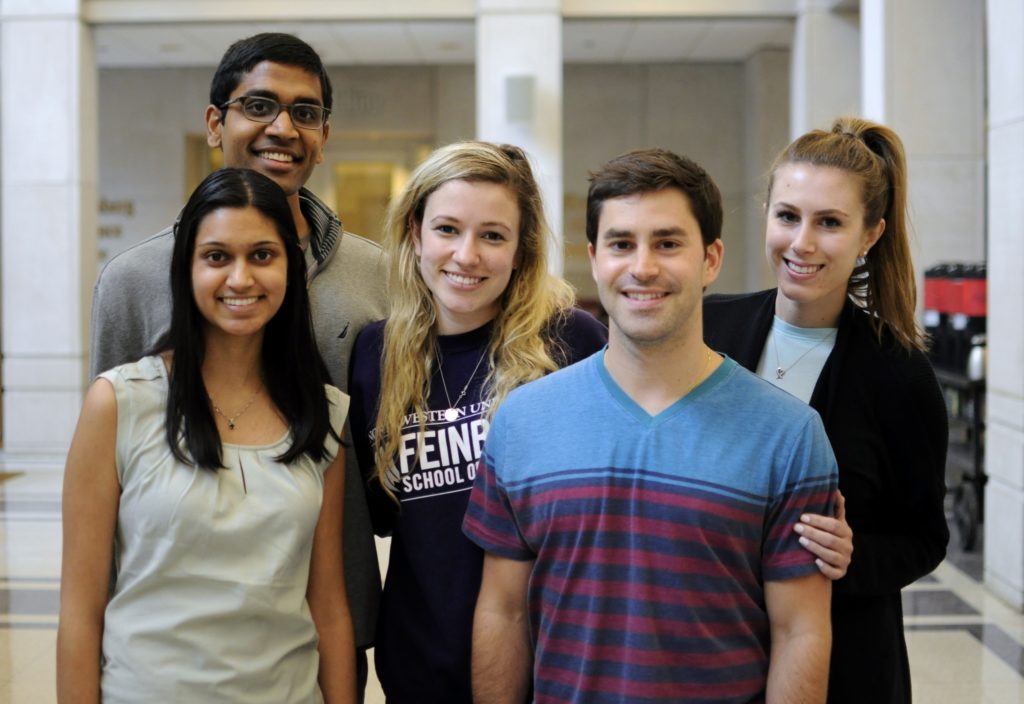 During a break between classes at Lake Shore Park, five first-year medical students saved a man's life – and performed CPR for the first time.
"There was a split second of fear, because we're first-year medical students, and we'd only practiced on mannequins, but we realized if we didn't do anything then he would die," Jessica Quaggin-Smith said.
Quaggin-Smith and her fellow first-year medical students, Carla Berkowitz, Max Kazer, Sneha Goswami and Krish Suresh, attributed their actions in the park to a basic life support course they took during the first week of medical school at Northwestern University Feinberg School of Medicine's simulation center.
Berkowitz was the first to spot the man in distress, noticing that he wasn't breathing or moving.
"The man was sitting in an awkward position on the bench, and he didn't look quite right," Berkowitz said. "His mouth was open, his eyes were looking up with his head tilted back, and we didn't sense any movement."
Berkowitz, Kazer and Quaggin-Smith approached the man and checked for a pulse. When they didn't find one, they lowered him to the ground to begin CPR while a bystander called 911.
"We learned basic life support in the first week we got here," Quaggin-Smith said. "I've never seen anyone go into cardiac arrest or done CPR before, but I knew what I had to do."
Kazer initiated chest compressions while Goswami, Suresh and a nearby emergency medicine physician came over to join. They alternated delivering chest compressions until paramedics arrived, who were able to restore breathing and a pulse.
"In the moment, everything felt surreal," Kazer said. "We had one moment of hesitation when we first got to him, and then we went into autopilot. I just thought this was the right thing to do – to give this guy a fighting chance."
The man was taken to Northwestern Memorial Hospital's Emergency Room, and the students visited him and his family the next day.
"I'm glad he's doing really well. This incident reminded me of why I wanted to go into medicine: to save people's lives," Quaggin-Smith said. "I was also glad that my classmates and the ER doctor were all there at the right place, at the right time."