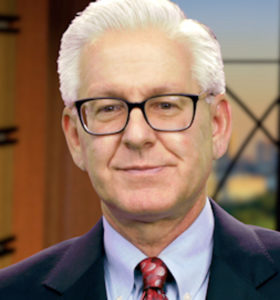 Two drugs known to improve survival for patients with metastatic renal cell carcinoma do not reduce the risk of cancer recurrence when administered after surgery, according to a recent clinical trial published in The Lancet.
The phase III study, co-authored by Timothy Kuzel, MD, '87 '90 GME, professor of Medicine in the Division of Hematology/Oncology and of Dermatology, tested the use of drugs sunitinib and sorafenib as options for adjuvant therapy – secondary treatment meant to stop cancer from coming back.
Both drugs have previously been shown to benefit patients with renal cell carcinoma when the disease has already spread to other parts of the body.
"This study was designed to determine if a one-year course of treatment with two different drugs that block blood vessel proliferation within the tumor microenvironment would improve the progression-free and overall survival of patients with renal cell cancer," Dr. Kuzel said. "Unfortunately, neither of the drugs demonstrated benefit compared with the placebo control arm, and both study drugs were associated with significant side effects."
Renal cell carcinoma, the most common type of kidney cancer, occurs when malignant cells develop from the lining of small tubes in the kidney responsible for filtering blood. About one-third of patients diagnosed with the cancer will die from metastatic disease. It is currently difficult to predict whether renal cell carcinoma will recur, which is why investigators are interested in discovering new adjuvant therapies.
The drugs sunitinib and sorafenib inhibit vascular endothelial growth factor, a protein involved in the formation of new blood vessels, a process thought to assist in tumor growth. The results of the trial, however, suggest that the development of blood vessels may not be associated with cancer recurrence after all – or that the benefits of inhibiting it are too small to have been detected in this trial.
In the study, nearly 2,000 patients randomly assigned to receive sunitinib, sorafenib or a placebo showed no significance differences in disease-free survival. More than half of the patients in the experimental groups experienced severe adverse events. Altogether, these results led the investigators to a clear conclusion.
"It's important that practitioners do not use these drugs in patients with completely resected renal cell cancers that they feel are at high risk of recurrence," said Dr. Kuzel, who is director of the Walter S. and Lucienne Driskill Immunotherapy Research Program within the Robert H. Lurie Comprehensive Cancer Center of Northwestern University. "This study reaffirms that observation and close surveillance should be recommended to assess risk of disease recurrence in this population, as per guidelines from the National Comprehensive Cancer Network."
Dr. Kuzel will continue to explore approaches to improve outcomes in patients with renal cell cancer at Rush University Medical Center, where he has accepted a position as professor of Medicine and chief of Hematology/Oncology and Cell Therapy, as of June 1.
This study was funded by Public Health Service Grants to the ECOG-ACRIN Cancer Research Group. David Cella, PhD, chair of Medical Social Sciences, was also a co-author of the paper.