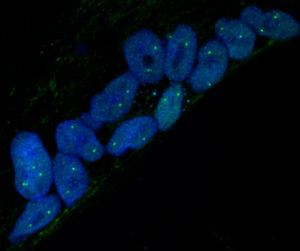 Northwestern Medicine scientists explored how the organization of genetic material within the nucleus of a cell can help explain how that material influences the cell's function, in a new study published in Proceedings of the National Academy of Sciences (PNAS).
The investigators used a muscle cell model to show how topologically associated domains (TADs), genetic material located close together, can reorganize within the nucleus.
"Genes that are being expressed tend to come closer together physically in the nucleus, and there have been a lot of hypotheses about what this means functionally," said Steven Kosak, PhD, assistant professor of Cell and Molecular Biology and senior author of the paper. Kosak is also a member of the Robert H. Lurie Comprehensive Cancer Center of Northwestern University.
Different cell types have different organizational patterns, and Kosak was interested in seeing whether TADs could provide additional insight about where genetic material is located and how it affects the regulation of gene expression.
Kosak and his team first identified a subset of TADs enriched with muscle-specific genes and demonstrated how their pattern of organization within the nucleus affects the positioning of nearby TADs that are not enriched with muscle genes.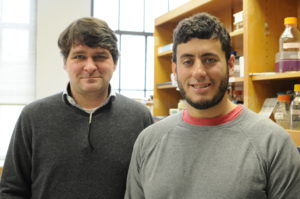 "We can have different types of TADS, and it leads to organized patterns," said Daniel Neems, '16 PhD, a graduate of the Walter S. and Lucienne Driskill Graduate Program and first author of the paper. "The way they behave three-dimensionally is different from cell type to cell type."
Neems designed a system to learn how these patterns emerge during the formation of muscular tissue. He found cell division is required for establishing changes in the organization of the nucleus and to achieve muscle-specific organizational patterns.
Kosak said the current research could be used for future diagnostic purposes and that he has several projects in his lab studying patterns of genome organization related to disease states.
"There is this idea that the organization of the genome and the expression of genes are intrinsically linked," Kosak said. "Many diseases are characterized by deregulation of expression in the cell. If we could understand better what the different organizations mean, maybe we'd understand better how that cell is becoming deregulated."
This work was funded by National Institutes of Health New Innovatory Award DP2 OD008717-01, National Institute of General Medical Sciences Cellular and Molecular Basis of Disease Training Grant T32 GM08061 and National Cancer Institute Oncogenesis and Developmental Biology Training Grant T32 CA080621.