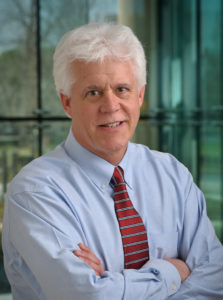 Eric Olson, PhD, professor and chair of the Department of Molecular Biology at the University of Texas Southwestern Medical Center, has been chosen to present the keynote address at the 12th Annual Lewis Landsberg Research Day.
Olson's presentation, entitled "Understanding Heart Development, Disease and Regeneration" will take place Thursday, April 7, at the Robert H. Lurie Medical Research Building, in the John Hughes Auditorium.
"I look forward to the opportunity to speak to and interact with the trainees at Northwestern, a renowned institution in biomedical research, during its Research Day. I am especially enthusiastic about science in the middle of the country, so visiting Northwestern has special meaning to me," said Olson, also director of the Hamon Center for Regenerative Science and Medicine at UT Southwestern Medical Center. He holds the Robert A. Welch Distinguished Chair and the Annie and Willie Nelson Professorship in Stem Cell Research.
Olson and his trainees have discovered many of the key transcription factors and mechanisms responsible for development of the heart and other muscles. His laboratory has also described the signaling pathways responsible for pathological cardiac hypertrophy and heart failure. Olson's research explores the intersection of developmental biology and medicine. It has helped illuminate the fundamental principles of organ formation and provide new avenues for research into novel cardiovascular therapeutics. Olson has co-founded multiple biotechnology companies to design new therapies for heart muscle disease based on his discoveries.
Olson is a member of the U.S. National Academy of Sciences, the Institute of Medicine and the American Academy of Arts and Sciences. He has received numerous awards including the Basic Research Prize and Research Achievement Award from the American Heart Association, the Pasarow Medical Research Award, the Pollin Prize, the Passano Award and the March of Dimes Prize in Developmental Biology. In 2009, the French Academy of Science awarded Olson the Fondation Lefoulon-Delalande Grand Prize for Science.