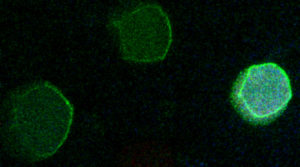 Scientists have long thought there might be a link between cilia – small, hair-like protrusions from cells – and cell polarity, the asymmetric organizations of the cells' structure and function. In a new publication, scientists from Northwestern Medicine and Princeton University helped begin to build that link.
In the study, published in Cell Reports, scientists discovered that the gene C21orf59/Kurly (kur) plays a role in cilia movement – called motility – and polarization.
Multi-ciliated cells beat in a particular direction creating fluid flow, which is important for a variety of functions, including clearing away mucus in the respiratory track, driving cerebral fluid in the brain and moving eggs down the fallopian tube.
"If you have defects in the cilia or in the polarity of the cilia, then you can't generate that flow and it can lead to lung defects, infertility and affect left-right patterning, which can cause congenital defects," said co-author Brian Mitchell, PhD, assistant professor of Cell and Molecular Biology.
The study showed that kur not only plays a role in cilia motility, it is also required for proper cilia polarization in zebrafish and xenopus frog models. The zebrafish studies were conducted in the laboratory of Rebecca Burdine, PhD, associate professor of Molecular Biology at Princeton.
Mitchell used a genome-editing technology called CRISPR-Cas9 to cut the kur gene in the xenopus frog model and then used homologous recombination to insert DNA to disrupt its function.
He observed that while in normal cells the cell polarity proteins are located on one side of the cell, in mutated cells – where the kur gene is nonfunctional – the proteins are present on both sides of the cell. This indicates that the kur gene controls the cell polarity that in turn controls cilia-mediated processes.
"The technology we used is a game-changer for us. This is the first example of using the new CRISPR-Cas technology coupled with homologous recombination to insert DNA into the genome of frogs," said Mitchell. "People in the frog community are very excited about this technology, and it's a good example of CRISPR at work."
The research was supported by the Eugene and Millicent Bell Fellowship Fund in Tissue Engineering and the Laura and Arthur Colwin Endowed Research Fellowship Fund at the Marine Biology Laboratory, in addition to NRSA grant IF32HD060396-01A1, NIH-NIGMS grant R01GM089970 and NIH-NICHD grant R01HD048584.