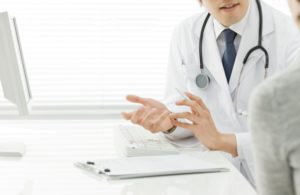 Patients with cancer who watched personalized educational videos before their first visit with an oncologist were better equipped to consider participating in clinical trials, reports a paper co-authored by Northwestern Medicine investigator Al B. Benson, III, MD.
The study, published in the Journal of Clinical Oncology, showed that this early patient education improved knowledge, attitudes and preparation for decision making about clinical trials.
"Nationally, less than 5 percent of cancer patients go on to clinical trials," said Dr. Benson, a professor of Medicine in the Division of Hematology/Oncology. "Not only are patients missing out on opportunities to try state-of-the-art new therapies, this is greatly delaying the development of those new therapies."
There are many explanations for low clinical trial participation rates: practical barriers like inconvenience and cost, but also psychosocial obstacles such as knowledge gaps and negative attitudes about research studies. Sometimes, patients simply aren't aware they have the option to participate in a clinical trial because their physician doesn't tell them, said Dr. Benson.
To address barriers preventing patients from deciding to get involved in clinical trials, the investigators developed a web-based computer program, called PRE-ACT (Preparatory Education About Clinical Trials), that was interactive and personalized to users. They randomly assigned 1,255 cancer patients from four study sites, including Northwestern, to watch the PRE-ACT videos or to read clinical trial information routinely available from the National Cancer Institute in text format.
The research team discovered that education before the first oncologist visit was effective for patients in both groups. In fact, six months after the intervention, 21 percent of patients signed up for another research study.
The investigators suggest that tailored videos may provide an extra benefit to certain subsets of patients. For example, they found that men, patients with lower education levels and those who are not married or partnered tended to have more difficulty making decisions.
"This study was a great success," said Dr. Benson, who is also associate director for cooperative groups at the Robert H. Lurie Comprehensive Cancer Center of Northwestern University. "It also has an immediate impact: Cancer centers across the country can consider using this tool to provide better information to their patients. For those who really want to emphasize their clinical trials programs, this is a very helpful way to prepare patients."
The PRE-ACT videos are available online now through the American Society of Clinical Oncology.
Dr. Benson notes that the Lurie Cancer Center has designed additional guidelines to help patients learn about getting involved in clinical trials, available on its website here.
This study was supported by National Institutes of Health grants R01 CA127655, P30 CA06927 and P30 CA43703. Neal Meropol, MD, of the University Hospitals Case Medical Center in Cleveland, led the work.