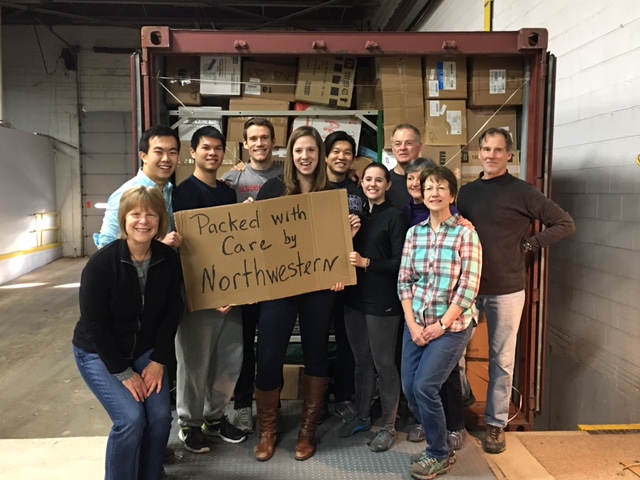 On January 23rd, medical students, physicians and supporters of Northwestern Medicine gathered to help pack a container shipment of lifesaving medical equipment and supplies to the Rural Aid Organization (RAO) Hospital in Shirati, Tanzania.
These supplies, worth about $500,000, will be used for cancer education and treatment. The shipment also includes 40 boxes of textbooks donated by medical students that span disciplines including surgery, internal medicine, infectious disease and cancer care.
Robert Dorfman, a second-year medical student, organized medical student involvement and has been active in the cancer education outreach project.
"Northwestern places an emphasis on educating medical students about disparities in healthcare, especially in a global context," Dorfman said. "Working on this project has enabled me to take what I learn in the classroom and apply it in a real world setting. There is no question that while this work has been important in improving the health of these local populations, the effect of this work on the development of myself as a future physician has been powerful, and even transformative."
The activity was supported by the International Relations Institute, part of the Robert H. Lurie Comprehensive Cancer Center of Northwestern University, the Global Health Initiative (GHI) and Project CURE, a nonprofit humanitarian relief organization.
"The International Relations Institute at the Lurie Cancer Center was established to have a global impact on cancer health disparities," said Leonidas Platanias, MD, PhD, director of the Lurie Cancer Center. "We're excited about this new initiative to improve cancer care in Tanzania, where screening and treatment options are scarce. Our work here at Northwestern, and in collaboration with our international partner institutions, will lead to important clinical advances for patients and their families locally, nationally and throughout the world."
Robert Havey, '80 MD, '81 '83 GME, assistant professor of Clinical Medicine in the Division of General Internal Medicine and Geriatrics and founder of the Global Health Initiative, added, "We are bringing lifesaving cancer care to this rural community in Tanzania. Up to this point, there has virtually been no cancer screening or treatment available in this area. The long-term impact of this undertaking and the benefit to this low resource community is beyond measure."
The shipment to Tanzania came about after Leah Makoyo, a former Northwestern Medicine patient, impressed with the quality of care she received, approached the Lurie Cancer Center to learn if they could help bring cancer education and a screening program to the RAO Hospital, operated by her husband, Ziki Makoyo, MD.
While visiting RAO Hospital last year, Sarki Abdulkadir, MD, PhD, John T. Grayhack, MD, Professor of Urological Research in the Department of Urology and co-director of the International Relations Institute, realized that in addition to education materials, the hospital also had a need for basic medical supplies. Project CURE sent physicians to assess the need and matched them with donated equipment.
"I think this shipment will carry a huge impact on their community," Dr. Abdulkadir said. "Cancer is a disease people used to think developing countries don't have to deal with, which isn't the case. I think it's a good idea to establish a deep relationship and do whatever we can to help our partners. We have active research programs in Tanzania and Nigeria, so this would also help our own research mission here."
In the future, the team would like to develop the RAO hospital in Tanzania as a future site for medical students to go to help with patient education.
"Health awareness of issues such as breast cancer detection are simply non-existent," Dorfman said. "As a result, most women come to the hospital when it is too late, when the cancer has already metastasized all over their bodies. We recently created a series of pamphlets and educational tools to increase awareness of breast cancer and to educate the community on how to perform breast self-examination and when to seek care."