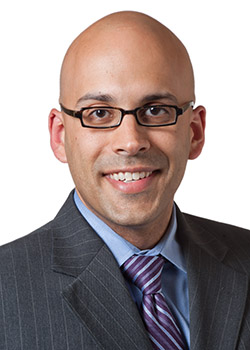 Surgeons-in-training say longer hours improve patient care and resident training
A new landmark national study led by Northwestern Medicine showed allowing surgical residents the flexibility to work longer hours in order to stay with their patients through the end of an operation or stabilize them during a critical event did not pose a greater risk to patients.
The highly anticipated seminal study was published in the New England Journal of Medicine and presented at the Academic Surgical Congress on Feb. 2, 2016.
"It's counterintuitive to think it's better for doctors to work longer hours," said principal investigator Karl Bilimoria, MD, '08 MS, '10 GME, associate professor of Surgery in the Division of Surgical Oncology and director of the Surgical Outcomes and Quality Improvement Center. "But when doctors have to hand off their patients to other doctors at dangerous, inopportune times, that creates vulnerability to the loss of critical information, a break in the doctor-patient relationship and unsafe care."
The study also found surgical residents reported no worsening in their overall well-being and personal safety when working longer hours. In fact, they noted considerable improvements in patient safety and the quality of their training. Surgical residents have finished medical school and are training for five to seven years to become a general surgeon.
"These results suggest flexible duty hours are safe for patients and beneficial for residents in numerous ways," Dr. Bilimoria said.
The FIRST (Flexibility in Duty Hour Requirements for Surgical Trainees) trial is the first national randomized trial of resident duty hour policies. Prior smaller studies have suggested there may be worse surgical patient outcomes after the duty hour limits were established in 2003, Dr. Bilimoria said. Thus, the Institute of Medicine requested these types of national trials to be performed in its 2008 report, and the FIRST Trial is the first.
Duty hour policies were implemented in 2003 and revised in 2011 by the Accreditation Council for Graduate Medical Education (ACGME) to address concerns about patient safety and residents' well-being. The reforms limited residents' work hours to 80 per week, capped shifts to 28 consecutive hours and mandated minimum time off between shifts. In addition, the shift length for interns (first-year residents) was shortened to 16 consecutive hours and their minimum time off increased after a 24-hour shift.
Investigators randomly assigned general surgery residency programs to one of two types of duty hour policies from July 1, 2014 to June 30, 2015. Both groups followed three ACGME rules: limiting the work week to 80 hours per week; taking one day off in seven; and not taking call more than every third night.
Half the programs followed all current policy restrictions. Residents in the other half had the flexibility to reorganize their hours to best care for patients and could work more than 28 hours at a time, if they needed to.
The FIRST trial investigated surgical patients' complication rates in the first postoperative month under less-restrictive duty hour policies compared to the current ACGME policies. The study included 4,330 residents, 138,691 patients, 117 residency programs and 151 hospitals around the country. Nearly every eligible residency program in the country agreed to participate in the trial.
The investigators evaluated a combined measure of patients' deaths or serious complications within 30 days of an operation. Of nearly 139,000 patients treated, the rate of the composite outcome was similar in both groups.
The study also showed residents in the flexibility arm were half as likely to leave in the middle of an operation or to miss an operation on one of their patients. Residents also were half as likely to leave one of their patients at a critical moment due to duty hour limits. Improving continuity of care was the guiding principle of the study.
"Residents used the flexibility of their hours strategically at important times," Dr. Bilimoria said. "We have had overwhelming support from surgical residents in favor of increased flexibility."
Dr. Bilimoria said he hopes the ACGME will use the study's results to revise duty hour policies.
"As a patient, you want the person who knows you to take care of you through the really critical parts of your care," Dr. Bilimoria said. "Once you are stabilized or your operation is done, then the doctors can hand off your care in a responsible way."
A 2012 meta-analysis from the ACGME and a large 2014 review suggested that the duty restrictions have resulted in more deaths and serious complications for surgical patients.
Dr. Bilimoria is a member of and co-director of the Northwestern Institute for Comparative Effectiveness Research in Oncology at the Robert H. Lurie Comprehensive Cancer Center of Northwestern University.
The FIRST Trial was funded by the American Board of Surgery, the American College of Surgeons and the ACGME.